This article is more than 1 year old
It only took four years and thousands of complaints but ICANN finally kills off rogue Indian domain registrar
DNS oversight body accused again and again of chronic foot-dragging
ICANN has finally acted against Net 4 India, terminating its accreditation and so preventing the rogue registrar from registering domain names for customers in most internet registries across the globe.
In a letter [PDF] sent late last month, ICANN told the India-based outfit that it was terminating its contract "due to Net 4 India's repeated and consistent breaches of the registrar accreditation agreement, and failure to cure such breaches despite multiple notices from ICANN and opportunity to cure."
The decision is welcome, it has come after an extraordinary four years after the company first went into insolvency, and follows more than 2,500 customer complaints sent to ICANN.
ICANN has been aware of the Net 4 India's problems for at least two years, yet despite numerous grounds for termination – including customers' domains being moved to a different company without their knowledge or agreement, domains expiring despite customer efforts to renew them, and people being prevented from moving their domains to a registrar of their choices – the DNS overlord has persistently failed to act against Net 4 India.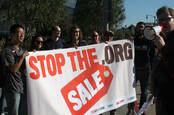 Ex-boss of ICANN shifts from 'advisor' to co-CEO of private equity biz that tried to buy .org for $1bn+
READ MORE
ICANN has publicly acknowledged it knew of problems since at least April 2019, and yet it took until December 2020 for the oversight organization to finally send a formal warning letter. It then sent a further three, with each setting a deadline for action that was ignored, before finally sending the termination notice.
ICANN has so far refused to explain its bout of extraordinary foot-dragging, though the failure to act follows a long tradition of the organization being resistant to imposing its own rules when it applies to the companies that provide a large chunk of its revenue.
One reason it has failed to act sooner may be the Indian legal system: an Indian insolvency court asked ICANN last month to hold off terminating the contract until April 25. In the end, ICANN told Net 4 India its contract is toast on March 13, at which point the thousands of domains under its control will be shifted to a different outfit, one that Net 4 India is allowed to designate.
For some it is a painful reminder of a much earlier ICANN failure where a registrar named RegisterFly went under and ICANN's failure to act caused havoc and eventually resulted in a reform process for the contracts that domain-name registrars sign. Little seems to have been learned.
That's not the only example of the oversight organization taking a very long time to reach the wrong decision this year, either.
Fail number two
This week, Pirate Bay founder Peter Sunde said ICANN has refused to grant his registrar Sarek accreditation because he had apparently lied on his application; an application that was first rejected in 2019.
According to Sunde, ICANN said he had refused to tell them about an Interpol notice against him, and had failed to tick the box asking if any of the registrar's directors had been convicted in the past 10 years.
But, Sunde says, he included the Interpol notice in his application, and his conviction for copyright infringement in the Pirate Bay case dates back to 2009, more than a decade ago. (After various appeals, and going on the run for two years, he spent five months behind bars in 2014.)
Sunde also claims he managed to get on the phone with ICANN staff who told him they the reason he was rejected was because they were "uncomfortable" with his background. He has filed a formal complaint, though he is not confident it will lead to anything.
Fail number three
And he has good reason to believe that, because in yet another example of ICANN failing to act within a reasonable time-frame or follow its own policies, it has, according to Domain Incite, been sued for not meeting its own accountability obligations.
Since 2013, ICANN has been required, under its own bylaws, to create a "standing panel" of judges for its Independent Review Panel – the only one of four accountability mechanisms that is actually independent of ICANN's staff and board. It has still failed to do so, leading to lengthy delays in the process.
The standing panel is supposed to have seven legal experts (typically retired judges) from which three can be selected for cases and all seven of which can sit in on specific cases – a common system in the US appeals court system.
But despite repeat calls for ICANN to fill all seven seats, it has consistently failed to do so. And in a tactic all too familiar to those who follow ICANN, it has repeatedly inserted procedural delays to make sure the standing panel never happens. Most recently, it announced a call for volunteers to sit on a panel that would then select the members.
In the past, this approach has been dragged out further through lengthy discussions of the panel's own charter and operating rules, but in this case ICANN hasn't even got past the volunteer call made more than three months ago.
The situation is so bad that three companies that are contesting the .hotel top-level domain have collectively launched the aforementioned legal action against ICANN for failing to do its job, pointing to the standing panel failure as well as calling another of its accountability mechanisms – a so-called "request for reconsideration" – a "sham."
Groundhog Day
It is very far from the first time that ICANN has been accused of running sham processes, as The Register has extensively documented over the years.
In the case of the "reconsideration" request, the exact same board members that approve a decision are then asked to review the same decision. Those board members have formally decided as part of their own process that they only have to read and consider documentation provide by ICANN's staff for the reconsideration – the same staff that proposed the decision that is being appealed in the first place.
Critics say the process exists solely to introduce lengthy delays and cost complainants time and money, effectively creating an accountability barrier rather than a resolution process.
The .hotel lawsuit also takes aim at another of ICANN's accountability mechanisms by pointing out that its ombudsman, who is supposed to act as the first port of call for complaints, has repeatedly recused himself from the reconsideration process and failed to give clear reasons for doing so.
As a result of all this, the companies suing ICANN have decided they have no choice but to get the US courts to force the org to implement its own systems. From the lawsuit: "Unless this court forces ICANN to comply with its bylaws in these critical respects, ICANN will continue to force plaintiffs and any other complaining party into the current, sham 'Reconsideration' and Independent Review processes that fall far short of the accountability mechanisms required in its bylaws."
So when it comes to terminating a registrar under contract who breaks that contract for years, approving a registrar who fulfills all the necessary criteria, or allowing interested parties to question its decisions, ICANN has a simple approach: make the decision based on its own prejudices and then drag out telling those at the end of it for as long as humanly possible. ®