This article is more than 1 year old
Japanese billionaire invites y'all to apply for an all-expenses-paid Moon trip in a SpaceX Starship – like the one that blew up today
Eight plucky applicants will be picked for journey of a lifetime
Video Japanese tycoon Yusaku Maezawa this week opened an application process for eight people to accompany him to the Moon aboard SpaceX's Starship.
Breaking news... Yes, that's the same Starship that just an hour or so ago blew up on the landing pad after a test flight in Texas. SpaceX flew the serial number 10 of the prototype craft, dubbed SN10, 10km up into the atmosphere, and brought it back down again to the concrete in one piece.
After touching down, though, it was seen to wobble back and forth – perhaps because a landing leg did not deploy properly – and it appeared an internal tank ruptured. The whole thing exploded in a spectacular fireball, either all by itself or by some kind of remote safety detonation. Watch below.
I told you it would never fly again..... pic.twitter.com/y67ffR8Cvo

— Scott Manley (@DJSnM) March 3, 2021
Back to the story on those brave souls who wish to take-off in this thing eventually...
Maezawa announced in September 2018 he wanted fly on a Starship to the Moon and back. He said he would select up to eight willing artists to come along for the journey, which involves a three-day ride to the Moon, followed by an orbit of the natural satellite to turn around, and a three-day trek back. And he said he's footing the entire bill for the expedition.
Philosophical meanderings over what an artist actually is led him to now opening up the application process to people from all walks of life – as long as the experience helps them "push the envelope" in some way and they promise to be supportive of others involved in the project. He earlier had second thoughts about taking a love interest, selected from thousands of applicants, with him, and so presumably everyone going will just be friends. A small crew will join the selected applicants and the internet baron.
In a Youtube video filmed at Maezawa's home, and posted Wednesday in Japan before today's rapid unscheduled disassembly of SN10, the entrepreneur and art collector admitted he fears what lies before him, but expects his curiosity to overcome the terror. When asked if everything is on track, he deferred to SpaceX supremo Elon Musk, who also appeared in the almost seven-minute video. Musk stated that everything was on track, and that Starship will have "reached orbit many times" before Maezawa's planned launch date in 2023.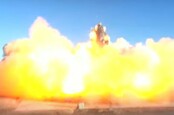 SpaceX Starship blows up on landing, Elon Musk says it's the data that matters and that landed just fine
READ MORE
In a public display of trust, Maezawa told Reuters: "Elon Musk says there is no problem and I believe him."
The two-stage-to-orbit super heavy-lift launch vehicle, Starship, has been in development since 2017. Prior to today, two prototypes have blown up in testing, including the test-turned-explosion on February 2.
Online clothing magnate Maezawa holds Japan's most-followed Twitter account. His prominence was bolstered by a 2020 competition that offered one million yen (approximately US$9,300) each to 1,000 randomly selected people, if they retweeted a message and followed him. Over four million people did so.
The eccentric and popular Twitter addict has updated his bio on the English version of his account to preemptively assert his new role as first private paying civilian to fly around the Moon.
Maezawa is also famous for buying record-breaking priced art, notably several paintings by Jean-Michel Basquiat. The biz baron was a fashion designer prior to selling a majority of his company, Zozo, in 2019 to SoftBank.
He is not the first celebrity to flirt with going to space. Lance Bass of 'N Sync boy-band fame was certified by both NASA and the Russian Space Program to fly in 2002. His dream of a trip into space ultimately did not come to fruition. Both Virgin Galactic and SpaceX have sold tickets to space in the past, attracting Leonardo DiCaprio, Justin Bieber, James Cameron, Rihanna, and more. NASA itself has toyed with space tourism as well as commercial business missions.
Applications to join the Japanese entrepreneur and billionaire on his Starship journey must be submitted by March 14. There will be medical checks and in-person interviews for successful applicants. Interested participants can find out more details at the Dear Moon website. ®