This article is more than 1 year old
Hot DRAM: Shortage of memory chips will continue this year, says Micron
Good news for memory makers, not such great news for wider tech world
US memory maker Micron Technology expects the chronic shortage of DRAM in the market to continue throughout this year, according to senior veep and CFO David Zinsner.
Speaking at the Morgan Stanley Technology, Media, and Telecom virtual conference, Zinsner claimed supply of DRAM will be "really tight."
"Things are certainly challenging in terms of the tightness around really DRAM, but also, quite honestly, a bit on NAND," he said, noting other manufacturers are experiencing the same woes, with demand from cloud customers especially high.
This isn't necessarily bad news for Micron's bottom line – Micron made 70 per cent of its Q1 2021 revenue from DRAM, with the shortage translating into higher average prices and healthier margins.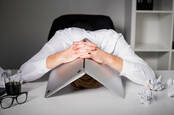 DRAM, son. Semiconductor revenue fell 12% last year. At least 2020 will be better, right? Right?
READ MORE
In the chat with investors - which was almost certainly nowhere near any fireside - Zinsner said: "On the DRAM side, volume is definitely better than we anticipated coming into the quarter. And in addition, ASPs are better than we anticipated coming into the quarter."
DRAM prices have been consistently spongy since 2018, caused primarily by a supply glut and tepid demand. Prices have since started to recover, driven in part by manufacturing constraints at SK Hynix and Micron.
In December, an earthquake that struck off the Northeastern coast of Taiwan resulted in a power outage at two of Micron's production facilities. This forced the Boise-based chipmaker to temporarily suspend production. Although both fabs were able to restart within a matter of days, Sanjay Mehotra, CEO of Micron, told investors the incident would have an impact on its available DRAM supply in the second quarter of 2020.
"The investments we have made over the last few years in facilities' redundancy and cleanroom control substantially mitigated the impact of these two events," said Mehotra. "However, these disruptions have reduced our available FQ2 DRAM supply and negatively influenced our costs in the short- term. The expected impact of these events is factored into our outlook."
Micron has an estimated 22 per cent share of the DRAM memory market. Compounding issues for the sector further, its nearest competitor, SK Hynix, has also been struggling to meet surging demand for DRAM chips.
In January, SK Hynix's head of DRAM marketing, Park Myung-soo, said the production of mobile DRAM would struggle to meet the demand from the resurgent smartphone sector. Although smartphone shipments plunged during the pandemic, analysts expect to see a substantial recovery this year, driven by greater consumer confidence and a wider appetite for new 5G handsets.
This optimism is shared by Zinsner, who said he expected solid growth from mobile, cloud and automotive vendors.
"Our expectation is that this year, the industry will undersupply that demand. So certainly, it's going to be a very healthy market for DRAM," he said.
Earlier this week, Micron updated its Q2 2021 forecasts for the quarter ended March 4, 2021, to account for this recovery in the DRAM market. Revenue is expected to land between the $6.2bn and $6.25bn mark, up from $5.6bn to $6.0bn, with margins estimated to range between 32 per cent and 33 per cent. The chipmaker expects EPS of between $0.93 and $0.98 per share, up from $0.34 and $0.48 per share. ®