This article is more than 1 year old
Shelter for internet outcasts Parler slaps Amazon with fresh lawsuit after abandoning first attempt
Far-right sanctuary sues cloud giant for breach of contract after plug pulled on its server hosting
Updated Parler this week dropped its case against Amazon Web Services – and filed a fresh lawsuit claiming the cloud giant breached its contract by pulling the antisocial network's hosting.
The upstart biz, which describes its mobile app as a place for "free expression without violence and no censorship," is a favorite among America's far-right. It was used by those who coordinated and participated in the deadly attempted insurrection in the US capital on January 6. Days later, AWS suspended Parler's account, saying it could not provide services to an organization unable to remove content that encourages and incites violence. That breach of terms, as Amazon put it, led to the app falling off the internet.
Parler was also deplatformed by Twitter and Apple and Google's software stores.
In an attempt to force Amazon to reinstate its account, and extract damages for its troubles, Parler filed a lawsuit against the cloud goliath in a federal district court in Seattle, Washington.
There, the tech conglomerate was accused of violating the Sherman Antitrust Act and breaking its contract with Parler by failing to give it 30 days of notice before booting it from the cloud. Amazon argued it was permitted to freeze the account on short notice due to the extreme content involved.
Now, Parler has withdrawn [PDF] from that seemingly losing battle. The court had denied its request for a preliminary injunction, which if successful would have forced AWS to host the social network. Parler is also back online now, anyway; it's right now hosted by SkySilk Cloud Services in Los Angeles.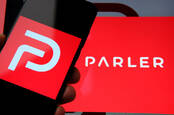 Recovery time objective missed by four weeks, but Parler is back online
READ MORE
Yet the legal battle isn't over. Parler has sued Amazon again, and this time it's at the King County Superior Court in Washington. The 66-page complaint [PDF] claims Amazon violated the Washington Consumer Protection Act, breached its contract with Parler, and also defamed the app maker as well as acted negligently.
Parler called Amazon a "bully" in its paperwork, and again demanded exemplary damages and its legal bills paid. "Many startup companies that have appeared to be a threat to Amazon and AWS have felt their wrath," the filing stated. "Plaintiff Parler LLC is merely the latest casualty—a victim of Amazon's efforts to destroy an up-and-coming technology company through deceptive, defamatory, anticompetitive, and bad faith conduct.
"Before the actions complained of here, Plaintiff Parler LLC had one of the hottest rising apps on the internet. A young start-up company that sought to disrupt the digital advertising and microblogging markets with a unique approach, Parler positioned itself as an alternative to the likes of Twitter or Facebook.
"But this rising popularity and alternative business model also made Parler a competitive threat to the likes of Amazon, Twitter, Facebook, and Google—four giants of the internet who derive enormous revenue from digital advertising. And that threat grew very real in late 2020 and early 2021 when Parler was poised to explode in growth. So together, Amazon, AWS, and others attempted to kill Parler."
Amazon has previously denied it colluded with Twitter to deplatform Twitter-esque Parler, and no hard evidence has been presented that it did so.
Spokespeople for Parler and AWS were not available for comment. ®
Updated to add
"There is no merit to these claims," an AWS spokesperson told The Register after this article was published.
"AWS provides technology and services to customers across the political spectrum, and we respect Parler's right to determine for itself what content it will allow.
"However, as shown by the evidence in Parler's federal lawsuit, it was clear that there was significant content on Parler that encouraged and incited violence against others, which is a violation of our terms of service. Further, Parler was unable or unwilling to promptly identify and remove this content, which coupled with an increase in this type of dangerous violent content, led to our suspension of their services."