First Verizon, now T-Mobile: US carrier suggests folks use 2G to save battery
Why are cellular networks so worried about batt life during lockdown?
US telco Verizon recently splashed $45bn on 5G spectrum and then advised its customers to use LTE to save device battery life.
Not to be outdone, rival carrier T-Mobile US is recommending battery-anxious punters use 2G instead of the latest-and-greatest in cellular connectivity.
In a since-deleted support page article for the new Samsung Galaxy S21 5G, the magenta-loving network advised punters "toggle from 5G/LTE to 2G" to get better battery life. Its other advice proved more sensible, such as lowering the screen's brightness, and turning off Wi-Fi, Bluetooth, and GPS. Bear in mind, there are no working 2G networks left in America.
T-Mob, we note, spent $9.3bn on 5G C-band spectrum in the latest FCC auction. It's also in the process of phasing out its aged 2G network, with the final nail in the coffin expected to be hammered next year.
It goes without saying 2G would be excruciatingly slow, especially if you planned on loading any media-rich websites or streaming online video. 2G Evolved Edge connections had a max theoretical speed of 1Mbps [PDF], with real-world performance a fraction of that. It was only really useful for two things: downloading emails and instant messages, and live action role-playing what it's like to live in deepest, darkest Devon in England.
From a security perspective, 2G left a lot to be desired. Its lax encryption made it feasible for third parties to eavesdrop on calls and messages. The Electronic Frontier Foundation noted it lacked real authentication, allowing anyone with the right kit to spoof a cell tower.
Still, T-Mobile correctly asserts that 5G is notorious for being battery-hungry. Endurance is around 20 per cent lower on the iPhone 12 with 5G switched on, when compared to LTE. To compensate, vendors have started including bigger batteries with their devices (it's not uncommon to see phones with 5,000mAh cells), as well as support for fast charging.
This correspondent is saddened T-Mobile didn't go further and advise punters to turn off cellular connectivity altogether. Impractical? Yes. Will it extend battery life? Yes, and as a bonus, it also spares you from incessant work emails and telemarketer calls.
Not much better on the wired front
2G is patently slow. For context, in order to meet the FCC's definition of broadband, a connection must provide speeds of 25Mbps down and 3Mbps up. The US Department of Agriculture (USDA) is even less discerning, defining broadband as any connection with download speeds of 10Mbps and 1Mbps up.
Is that enough? Some lawmakers aren't convinced, with a bipartisan group of senators urging the US's telecoms regulator to change the standard to 100Mbps in both directions.
In an open letter, Joe Manchin and Michael Bennett, the Democratic senators from Colorado and West Virginia, Rob Portman, the Republican senator for Ohio, and Angus King, an independent from Maine, urged the FCC to "align the definition of what constitutes high-speed broadband" with contemporary realities.
"Going forward, we should make every effort to spend limited federal dollars on broadband networks capable of providing sufficient download and upload speeds and quality, including low latency, high reliability, and low network jitter, for modern and emerging uses, like two-way videoconferencing, telehealth, remote learning, health IoT, and smart grid applications," they wrote.
"Our goal for new deployment should be symmetrical speeds of 100 megabits per second (Mbps), allowing for limited variation when dictated by geography, topography, or unreasonable cost. While we recognize that in truly hard-to-reach areas, we need to be flexible in order to reach unserved Americans, we should strive to ensure that all members of a typical family can use these applications simultaneously."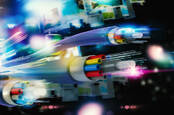 It's back: America's net neutrality advocates begin push to return to pre-Trump internet protections
READ MORE
In the FCC's most recent Annual Broadband Report, published one day before the inauguration of President Joe Biden, the commission re-asserted that speeds of 25/3Mbps were still "an appropriate measure by which to assess whether a fixed service is providing advanced telecommunications capability."
This assessment isn't shared by the senators, who argued: "Ask any senior who connects with their physician via telemedicine, any farmer hoping to unlock the benefits of precision agriculture, any student who receives livestreamed instruction, or any family where both parents telework and multiple children are remote learning, and they will tell you that many networks fail to come close to 'high-speed' in the year 2021. For any of these functions, upload speeds far greater than 3 Mbps are particularly critical.
"If we want to maintain that leadership in the 21st century and ensure every American has access to economic opportunity regardless of where they live, we need to make sure that federal standards and strategies for essential technology services like broadband reflect our true needs today and future demands for connectivity." ®