This article is more than 1 year old
Day 5 of Openreach strikes: No use of tech company toilets. No water. Fresh dates outlined
'No access to buildings' for striking Repayment Project engineers, confirms company
Updated Openreach's Project Repayment Engineers who are already on the picket line to protest over changes in the grading structure that they say devalues their role, are naming five more strike dates.
Conflict between Openreach and their RPEs, workers who are used to divert copper and fibre cables to make way for new property developments such as HS2 or Battersea Power Station, started 18 month ago.
The industrial action, says the Communication Workers' Union (CWU), is the result of failed negotiations with Openreach top brass, who have started to hire engineers on the lowest rung of the managerial level, which equates to a lower salary, fewer holidays and other entitlements. These changes only impact new hires.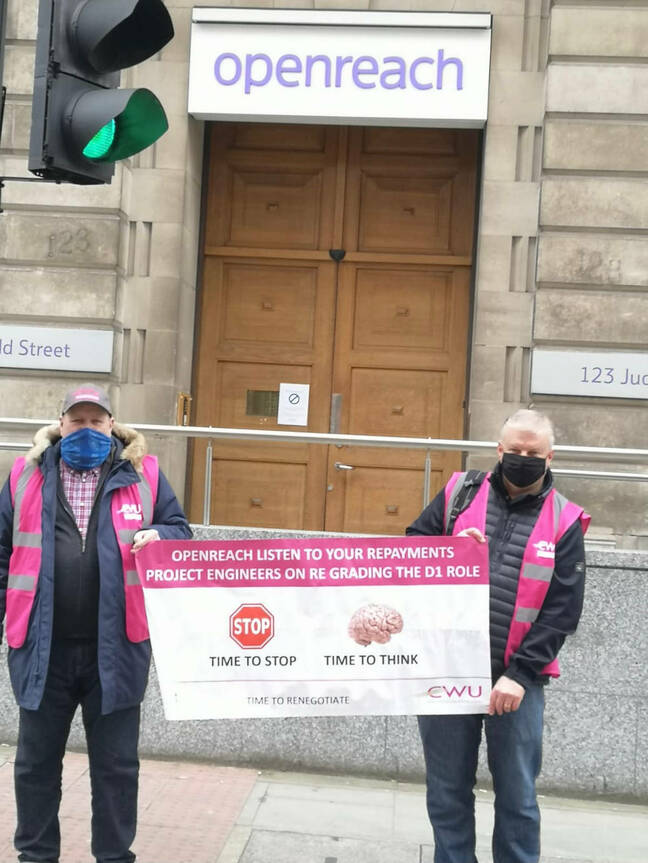 The RPEs downed tools for 48 hours from 24 February and for 72 hours from 3 March. Now the union has confirmed that more strikes are scheduled for two days from 18 March and three days from 22 March.
Dave Bowman, CWU national officer for Openreach, said the "company seems unwilling to reconsider its position on this issue."
"In the absence of any serious response from Openreach to discuss these issues with a view to reaching a negotiated settlement, we served notice for a further five days of all-out industrial action," he said.
The Reg caught up with some RPEs outside of Openreach HQ through the social distancing medium of telephony. Strike action is taking place in different parts of Britain including London, Manchester, Newport and elsewhere.
A manager from Openreach is present at each of the sites to monitor what the striking workers are doing. "They've not let us use the toilets, we have to use the public toilets at King's Cross," said one striker outside of London HQ.
He said the company had also refused requests for a glass of water. "They said it's BT water."
A spokesman for Openreach commented on the facilities policy, saying it is "basically because if somebody's taking strike action then they're not at work, so they won't be given access to our building for any reason."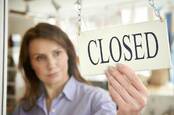 BT to axe 90% of its UK real estate, retain circa 30 sites
READ MORE
He added that of the 170 RPEs employed, 118 took part of the first day of strikes in February, 108 turned out on the second, and 97 took part in the first of three dates this week.
In terms of a general comment about the conflict, Openreach pulled out the same drawer statement, saying it was "surprised and saddened by this action" and that it had tried to resolve it with CWU for 18 months.
"None of the 170 Repayments Project Engineers in question is at risk of losing their job or seeing any deterioration in their pay, terms and conditions. In fact we've offered them the option to upgrade to the better-paid higher 'Technical Professional' grade, but we've also given a cast-iron guarantee that they can choose to stay on their existing terms and conditions – which includes an extremely competitive salary of around £45,000 a year. The new grade enables them to remain at this salary plus participate in an incremental bonus scheme.
"This is an area of the business where we're growing and when we recently advertised roles at the new grade internally for promotion, we received hundreds of applications from other engineers.
"We want to reassure customers that this action won't impact the quality of the service we provide, or affect our large ongoing investments in recruitment, training and a new Full Fibre broadband network for the UK."
As we've previously noted, the company-wide transformation programme at Openreach parent BT Group is causing all manner of eruptions between staff and management. BT is jettisoning 13,000 employees over multiple years in a process that started in 2018 and which will mean a closure of 90 per cent of its real estate.
The strikes at Openreach are seen as a testbed by the CWU and Prospect, who are gearing up for potential national strikes over additional changes to Ts&Cs, including a new cap on redundancy payments, near shoring the procurement function to Ireland, and myriad other issues.
Openreach was "legally separated" from BT in 2017, though it still reports results as part of the wider group, and in fact has been one of the few parts of BT to report sustained revenue growth, hence the view from the head shed that the wider group needs to revamp itself.
BT strategy under previous CEO Gavin Patterson was all about the network, it was UK-centric, and it concentrated on consumers. Under new broom Philip Jansen, BT has created a Digital unit and seemingly wants to become a global tech powerhouse, with fingers in AI, security and more data related services.
Squeezing into this new outfit will take some time.
Updated at 15.57 on 5 March to add
Following publication of this article, CWU made contact to contest Openreach's stats on the number of people on the picket line.
"The attempt to undermine our dispute with false numbers is embarrassing. The support for this strike has been absolutely rock solid and the employer would be far better served trying to resolve our members concerns than acting desperately to what is an overwhelming rejection of their plans. Our members will stand with their union until this dispute is resolved successfully," a spokesman stated. ®