This article is more than 1 year old
Keeping up the PECR: ICO fines two marketing text pests £330k for sending 2.6 million messages
Leads Work Ltd and Valca Vehicle and Life Cover Agency tried to exploit household finance fears in lockdown, says data watchdog
Two businesses that dispatched more than 2.6 million nuisance text messages seeking to exploit lower household incomes during Britain's first lockdown are nursing a combined financial penalty of £330,000 from the UK's data watchdog.
The Information Commissioner's Office (ICO) said it had received 10,000 official moans against West Sussex-based Leads Work Ltd [PDF], which sent more than 2.6 million lead generation texts between 16 May and 26 June 2020.
The texts were sent under the brand of Avon - yes, the direct sales biz that flogs cosmetics and perfumes. Any leads generated would then passed to independent Avon sales reps.
One of the messages, for example, stated: "In lockdown and want to earn extra cash? Avon is now FULLY ONLINE, FREE to do and paid weekly. Reply with your name for info. 18+ only. Text STOP to opt out."
However, Avon did not send or initiate the texts, the ICO found in the course of its investigation.
Andy Curry, head of investigations at the ICO, said the amount of complaints "far exceeds any we've seen to date," which obviously demonstrated the level of anger toward the messages.
"Leads World Ltd sought to capitalise on the pandemic by sending a significant number of unwanted text messages relating to, and directly referencing, lockdown when the population was as its most vulnerable," he said.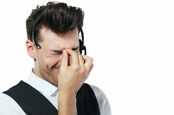 UK watchdog fines two firms £270k for cold-calling 531,000 people who had opted out
READ MORE
Crawley-based Leads Work, incorporated in 2017, was slapped with a £250,000 fine and an enforcement notice that ordered it to cease and desist from sending unlawful direct marketing messages. It contravened regulation 22 of the Privacy and Electronic Communications Regulations (PECR) 2003.
The second text-flinging offender, Manchester-based Valca Vehicle and Life Cover Agency [PDF], which generates leads for financial products, was found by the ICO to have sent more than 95,000 messages from June to July 2020.
Here's one: "*firstname* Affected by Covid? Struggling with finances? lost job/furloughed? Were here to help! Gvnmnt backed support see if you qualify http://www.debtquity.org."
There was no ability to opt out.
The ICO said Valca, which now trades as the oh-so cleverly named Debtquity, contravened regulations 22 and 23 of PECR. It was fined £80,000 and given an enforcement notice to behave itself in future.
"Not only was this company breaking the law by sending unwanted marketing messages, they were trying to take advantage of people who may be financially vulnerable due to the health crisis," thundered the ICO's Curry.
"We have issued a number of fines recently to companies that have used the pandemic as a way of making money. Businesses that think they can exploit the pandemic in this way should think again."
Valca Vehicle was incorporated in 2017 and has filed only micro company accounts. ®