This article is more than 1 year old
Micro Focus tells investors it will appeal against $172.5m patent infringement case
Buy one enterprise software division, get one sueball absolutely free
Micro Focus International has told the London Stock Exchange it intends to appeal judgments resulting from a verdict of a patent infringement against it in the US.
The jury's decision comes less than three years after a complaint was filed in July 2018 [PDF] in the Eastern District of Texas, in which Wapp Tech Limited Partnership and Wapp Tech Corp accused Micro Focus of infringing a trio of patents in the Application Delivery Management (ADM) line, including LoadRunner and Performance Center.
The original complaint shows rumblings kicked off after Micro Focus ingested Hewlett Packard Enterprise's Software division in 2017. LoadRunner and Performance Center were both a part of the deal, which was worth $8.8bn.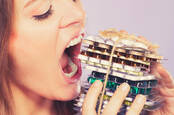 HPE crams unloved software down Brits' throats – then charges them $9bn to swallow it
READ MORE
As well as the spin-merger causing a severe case of indigestion for the London-listed software biz, the Wapp verdict last week might add to the sentiment that buying HPE Software wasn't Micro Focus's best decision: The damages currently stand at $172.5m, according to Micro Focus's statement.
There is every chance that figure might change. Micro Focus noted today: "The matter is awaiting the judge to hand down his judgement and the judge has discretion to increase the total damages awarded."
"Micro Focus has received comprehensive and clear advice from its external counsel that it has a very strong case to appeal both the infringement verdict and the amount of the damages. Accordingly, Micro Focus intends to appeal any judgement resulting from the verdict. Micro Focus continues to contend that there has been no infringement of any intellectual property and its advice from external counsel continues to support this," the statement added.
The company is a year into its three-year turnaround plan, and its last set of results made for sober reading. Revenue dropped 10 per cent year-on-year to a hair over $3bn and an "impairment charge" transformed a $221.7m profit into a multibillion-dollar loss.
The court's verdict rubbed salt into the wounds of underperforming sales in ADM, which slid 13 per cent to £631m in the firm's fiscal 2021.
Investors were apparently unimpressed by both the court ruling and Micro Focus's protestations. At time of writing, the company's stock had dropped sharply by 6 per cent from Friday's closing price.
The Register has asked Micro Focus when it intends to file an appeal. ®