This article is more than 1 year old
SK Hynix starts churning out 18GB LPDDR5 mobile memory chips – with ASUS first in line
And here's us thinking 640KB was enough for anyone
South Korea's SK Hynix has started mass production of its first 18GB LPDDR5 memory chip.
The DRAM, which would be the largest currently available on the market, will debut on ASUS's upcoming ROG 5 smartphone that is expected to see a formal launch later this month.
Although the ASUS ROG 5 is primarily intended for mobile gamers, SK Hynix is touting the chip as a potential breakthrough in mobile imaging. A company rep claimed: "This product will improve the processing speed and image quality by expanding the data temporary storage space, as the capacity increases compared to the previous 16GB product."
That's not entirely true. RAM isn't the only factor when it comes to taking decent photos, as demonstrated by DXOMark's rankings of smartphone image quality. The vast majority of devices in the top 10 listing, such as the Huawei Mate 40 Pro and iPhone 12 Pro Max, limp by with perfectly ordinary amounts (6GB or 8GB) of RAM. The deciding factors are the imaging sensors used, the quality and variety of the lenses, and the ISP (image signal processor) that transforms analog data into a digital photo.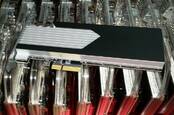 Hot DRAM: Shortage of memory chips will continue this year, says Micron
READ MORE
SK Hynix claimed its latest LPDDR5 DRAM has a per pin speed of 6,400Mbps, which it said was 20 per cent faster than its previous LPDDR5 product, one that operated at 5,500Mbps, resulting in a data-transfer speed of 51.2GB per second.
For most people, 6GB RAM is sufficient for now in a smartphone. A bump to 8GB should provide a slightly smoother experience, especially when multitasking. Go beyond that point, and the benefits feel much more marginal. You'll only likely notice a performance uplift when playing graphically intensive mobile games.
This has been true for years now, and will remain so for the foreseeable future, especially while battery endurance remains a significant constraint on phone performance.
Yet given the propensity for LPDDR RAM to make an appearance on notebooks, the prospect of higher-density chips does hold some excitement, especially given its non-upgradable nature. While 18GB RAM in a phone seems extravagant, Reg readers know it's an entirely different matter in a traditional computer environment. ®