Cortana smokes Invoke: Redmond's chatty assistant bails from the only smart speaker it called home
Windows giant's withdrawal leaves market to Amazon, Apple, Google
Microsoft has officially exited the smart-home digital-assistant market: the one, lone smart-speaker with its Cortana service built in – Harman Kardon's Invoke – will no longer be able to use Redmond's service.
A software update on March 10 will be pushed out by Harman Kardon to disable Cortana on Invoke gear, a major selling point of which was the voice-controlled assistant.
Last year, Microsoft said it was withdrawing from the consumer market – effectively leaving Apple, Amazon and Google to battle it out in people's homes – when Redmond announced the end of its Cortana apps for iOS and Android.
It's not great news for Harman Kardon, which now has an expensive Bluetooth speaker without the additional functions that services like Alexa and Google Assistant provide. The Samsung subsidiary has made it plain that it was Microsoft's idea to kill off Cortana.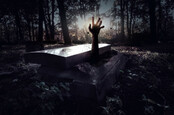 Microsoft pokes Cortana's corpse to give her telepathic abilities on Windows 10
READ MORE
"After careful consideration, Microsoft has decided to end support for the Cortana integration in the Harman Kardon Invoke speaker," an FAQ on Harman Kardon's website noted: "Microsoft has worked closely with Harman Kardon to create a device transition plan that will help ease the impact this has on some of our customers." The exit was originally planned for January and it's not clear why it was given an extra few weeks of life.
We were there when Cortana was first born, in 2014. Its introduction at a keynote during the Build conference now reads pretty poorly: "Cortana is powered by Bing," explained VP Joe Belfiore. "So she understands the entire internet. You could say she understands everything about the world."
But, you know, she didn't. In fact, Cortana was always a poor relation to the rapidly expanding efforts like Apple's Siri and Amazon's Alexa. Besides Xbox and some Surface kit, Microsoft has never done consumer electronics very well, and so with hindsight it was inevitable that Cortana would end up as an add-on to Redmond's core email and document services.
Slow death
The rebranding began in 2018 when Cortana was pitched as a corporate worker rather than a personal home assistant. Veep Javier Soltero pointed out that Cortana developers could now focus on business-oriented skills for the platform.
Then in January 2019, Cortana was booted from search. Microsoft was "decoupling Search and Cortana" in the taskbar, it said, which would allow "each experience to innovate independently". A week later and it had been relegated to a "skill" rather than its own standalone platform.
And then in March 2020, it was fatally weakened when a Friday night blog noted that "consumer skills including music, connected home and third-party skills will no longer be available in the updated Cortana experience in Windows 10."
The animated corpse of Cortana will still be included in Windows 10 and the mobile version of Outlook and Teams, doing things like arranging meetings or reading emails, but the whole ask-a-question-get-an-answer consumer service is gone.
"We've spent a lot of time thinking through this transition and understand that these changes may be disruptive to some of our customers," Microsoft said last year. "We look forward to continuing to innovate on ways Cortana can help you navigate the modern workplace so you can save time and focus on the things that matter most in your day."
But for all intents and purposes, Cortana as she was initially envisioned is dead, survived by her sister, Bixby, which Samsung continues to insist is feeling fine and getting stronger every day. ®