SAP boss Christian Klein's pay cheque is considerably lighter after 2020 woes wiped €28bn off company's value
Here's what you could have won
A bumpy 2020 has hit SAP boss Christian Klein in the pocket, wiping millions of euros from his pay packet.
The exec, who took over as sole CEO after a brief shared tenure with Jennifer Morgan, received €2.19m for the year that included a resizing of the company's outlook and a 23 per cent or €28bn crash in its value, some of which has now been recovered.
The softly spoken German did see his pay increase by 18 per cent from €1.85m in 2019, but that's nothing compared to what he could have won.
According to SAP's annual report, Klein's nominal compensation award for 2020 reached €9.12m. However, the first year of a multi-year variable compensation scheme worth €5.1m and supplementary compensation worth €1.1m did not turn up in his pay packet. Meanwhile, the award for a one-year variable compensation was cut from €1.9m to €1.1m for a year in which revenue grew only 1 per cent, although operating profit was up 48 per cent.
Klein may have expected a bigger pay increase on the previous year as in 2019, he was only CEO for part of the time, and only a co-CEO at that.
His former co-CEO, who it was decided should depart from her role in April after just six months because of the need to take "swift, determined" action during the COVID-19 pandemic, still managed to receive €1.49m for 2020.
Klein is bound to feel a tad disappointed with his package when eyeing up that of his predecessor, Bill McDermott.
Although the American left in November 2019, he still managed to net €15,176,900 for his work with the firm in 2019, making McDermott Germany's highest salaried earner at the time.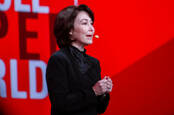 Won't somebody think of the Oracle execs? No pay rises, bonuses, equity awards for top brass until 2022 at earliest
READ MORE
According to SAP's 2019 annual report, McDermott's salary was €1.2m, which was duly pumped up to €2.3m by fringe benefits. Add the one-year variable compensation, a stock plan, and pension payments and you get €15.2m, 50 per cent more than the previous year.
The 40-year-old Klein, who has worked for SAP his entire career after starting as a student in 1999, might feel a little cheered when he sees the plight of the leadership at rival vendor Oracle.
CEO Safra Catz saw no increase in her salary, no bonus, no new equity grant, and no performance-based equity vesting. She had to make do with her meagre $950,000 salary, plus a trifling $14,055 in other compensation, according to a Securities Exchange Commission filing. ®