SpaceX wants to slap Starlink internet terminals on planes, trucks, and boats – but Tesla owners need not apply
They're 'much too big' says Musk
---
Elon Musk's satellite internet constellation biz, Starlink, wants to sell its end-user station devices and services for use in vehicles, judging by a filing with the US Federal Communications Commission (FCC).
The filing, submitted by SpaceX, began by noting the authorisation the company has received to launch over 4,400 non-geostationary orbit satellites. More than 1,100 have been launched so far "to bring high-speed, reliable, and affordable broadband service to consumers in the United States and around the world, including areas underserved or currently unserved by existing networks."
Thus far, the company (or rather its sister company, SpaceX Services) was granted a licence for the operation of up to one million end-user stations. Although they are usually placed in fixed locations, the company now wants to be licensed to mount the devices on vehicles (Vehicle-Mounted Earth Stations or "VMESs"), vessels (Earth Stations on Vessels or "ESVs") and aircraft (Earth Stations Aboard Aircraft or "ESAAs".)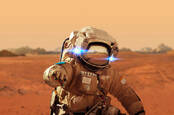 SpaceX small print on Starlink insists no Earth government has authority or sovereignty over Martian activities
READ MORE
The hardware will, according to the filing, be "electrically identical to its previously authorized consumer user terminals" but feature mountings more suited to the targeted vehicle than the outside of a remote barn in a bit of the US neglected by internet providers.
It also promised the unhelpfully monikered E-SIMs (not embedded SIMs, as Reg readers might know them, but Earth Stations in Motion) would be put into customers' kit by "qualified installers who have an understanding of the antenna's radiation environment and the measures best suited to maximize protection of the general public and persons operating the vehicle and equipment."
"No longer are users willing to forego connectivity while on the move," intoned SpaceX, insisting in its filing the granting of its application would most definitely be in the public interest. The eye-popping cost to passengers of internet access from aircraft as well as a keenness for connectivity for freight is also likely a factor.
In an Attachment Narrative, SpaceX explained that the broader licensing would "promote competition in the market for in-motion broadband services, to the benefit of drivers, ship operators, and air travelers in the United States and abroad."
However, one set of customers unlikely to benefit from the company's hoped-for internet-on-the-move will be Tesla drivers. Sticking a terminal on top of one of Elon Musk's electric jalopies would probably spoil the sleek lines of the vehicle. The company's boss let fans of the vehicles down gently:
Not connecting Tesla cars to Starlink, as our terminal is much too big. This is for aircraft, ships, large trucks & RVs.

— Elon Musk (@elonmusk) March 8, 2021
The application was filed as SpaceX continues its impressive launch cadence. The next batch of 60 Starlink satellites are due to go up tomorrow morning at 02:58 UTC atop a booster previously used to send NASA astronauts Bob Behnken and Doug Hurley to the International Space Station. The mission is scheduled for less than a week after the previous Starlink launch. ®