This article is more than 1 year old
Twitter sues Texas AG to halt 'retaliatory' demand for internal content-moderation rulebook in wake of Trump ban
Lone Star state and web biz clash over First Amendment rights
Twitter has sued the Attorney General of Texas, accusing him of bullying the biz in retaliation for nuking Donald Trump's account.
The US state issued civil investigative demands to Google, Facebook, Twitter [PDF], Amazon Web Services, and Apple on January 13.
These demand that the tech giants hand over documents describing "their policies and practices regarding content moderation" as well as any information related to the far-right Twitter-a-like haven Parler. (Parler was booted off AWS and accused Amazon and Twitter of colluding to extinguish the social-media upstart.)
Twitter believes Texas's request is unfair, and is seeking a court order in California to block the demand. It said the files Texas wants to see are "highly confidential," and revealing them would undermine its ability to moderate content effectively on its platform. The biz also claimed it has tried to negotiate with Texas AG Ken Paxton on the data it could share, and the talks went nowhere.
"Twitter sought for weeks to reach an agreement with AG Paxton that would put reasonable limits on the scope of this demand, but to no avail," the internet outfit informed [PDF] a US federal court in its home city of San Francisco on Monday.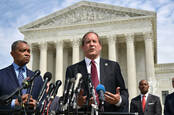 In this week's episode of Texas Attorney General: Google faces lawsuit accusing it of crushing ad-tech rivals
READ MORE
"Instead, AG Paxton made clear that he will use the full weight of his office, including his expansive investigatory powers, to retaliate against Twitter for having made editorial decisions with which he disagrees. Now Twitter, already targeted because of its protected activity, is left with the untenable choice to turn over highly sensitive documents or else face legal sanction."
The corp said it was within its First Amendment rights to ban Trump, who had earlier incited an insurrection attempt at the US Capitol in January.
Paxton, a staunch defender of Trump, believes Big Tech is abusing its free speech rights to deplatform people.
"First Amendment rights and transparency must be maintained for a free online community to operate and thrive," he previously said in a statement.
"However, the seemingly coordinated de-platforming of the President of the United States and several leading voices not only chills free speech, it wholly silences those whose speech and political beliefs do not align with leaders of Big Tech companies."
A spokesperson for Paxton was not available for further comment. ®