This article is more than 1 year old
Vodafone on mega Euro masts biz: From our Vantage point, we want €2bn+ from towers IPO
Sales of €950m in shares already agreed as float day looms
The Vodafone Group told the market today it hopes to raise between €2bn and €2.8bn from the planned IPO of its infrastructure business, Vantage Towers.
Additionally, the mobile operator outlined its price range for the initial public listing, with the Vodafone Group aiming for between €22.50 and €29 per share. This would imply a market capitalisation of between €11.4bn and €14.7bn.
With the IPO expected to take place on March 18, Vodafone has already started offering shares to institutional investors, with €950m snatched up.
Digital Colony, the telecoms-focused wing of multi-billion private equity firm Colony Capital, has already called dibs on €500m worth of shares. This isn't fresh ground for Digital Colony, which acquired Finland's largest independent towers company, Digita Oy, in 2018. It also owns a significant stake in Stratto, a UK-based provider of indoor and small-scale cellular equipment.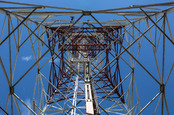 Not-so-paltry towers to float: Vodafone reveals IPO plans for mega European masts biz
READ MORE
Per the terms of the deal, Digital Colony has agreed to a lock-up period of 180 calendar days, in which its holdings cannot be re-sold.
Singaporean equity fund RRJ agreed to buy the other €450m. RRJ has historically made private equity investments across the Asia-Pacific region. Although it has previously invested in telecoms businesses, Vantage Towers is nonetheless a bit of an aberration, given its European base.
Vodafone first announced plans to spin off its towers business in July of last year. The new entity would include 68,000 towers across nine European markets (Germany, Spain, Greece, Portugal, Czechia, Romania, Hungary, and Ireland), in addition to Voda's 33 per cent stake in Italian mobile infrastructure outfit INWIT.
In January of this year, Vodafone sweetened the pot by including its stake in UK tower business Cornerstone JV, a joint venture with rival O2 Telefonica.
In a statement, Vivek Badrinath, Vantage Towers CEO, said: "The Vantage Towers IPO is moving ahead at pace. Today's price range announcement is accompanied by the news that two leading global investors have committed to cornerstone our IPO with the purchase of €950m of shares at the offer price."
He added: "Demand for data and connectivity across Europe is powering growth in the towers sector. Our superior grid and leading market positions mean we are well placed to benefit from this growth and our recent financial results highlighted the good commercial and operational momentum across the business."
Vodafone isn't the only outfit looking to divest its infrastructure business. Last November, CK Hutchinson agreed to sell its towers business to Spanish-based Cellnex for a cool €10bn. This deal, which includes 24,600 towers across six markets, has been structured across multiple tranches, with its conclusion expected to occur later this year.
Separately, in January of this year, Telefonica agreed to sell its majority stake in Telxius Telecom to the American Tower Corporation (ATC). In exchange for €7.7bn, ATC would get nearly 30 thousand mobile towers across Spain, Germany, and several Latin American markets, including Brazil, Chile, Argentina, and Peru.
For telecoms companies, which are faced with high capex costs and wafer-thin margins, divesting their infrastructure businesses provides an opportunity to raise large sums of fresh capital, which can be used in turn to pay down debt and fund further network investments. ®