This article is more than 1 year old
VMware devolves hyperconverged infrastructure – compute nodes without storage are now a thing
As new best bud NVIDIA releases AI on-ramp bundle that only runs with vSphere
VMware has unconverged hyperconverged infrastructure with a new cut of its vSAN virtual storage array.
Hyperconverged infrastructure (HCI) became popular because it replaced discrete servers, storage arrays and storage area networks with "nodes" that were usually servers equipped with many disk slots. Scaling HCI meant adding new nodes, often with identical storage configurations.
But those nodes are weighty machines - literally and metaphorically. The need for lockstep scaling of storage and compute could therefore be expensive.
VMware's has endeavoured to address that with the new "enhanced HCI Mesh" in vSAN 7 Update 2.
The release means that a compute cluster that's not in an HCI node can remotely use storage from a vSAN cluster that is in the same data centre.
VMware thinks users will appreciate this because it means they could dedicate blade servers to compute, rather than the larger and more pricey vSAN nodes. Blades, or other small servers, could also offer CPUs with fewer cores which would mean lower software licensing costs.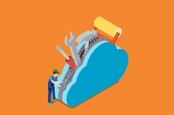 New Nutanix CEO and Azure HCI debut reboot the hyperconverged infrastructure market
READ MORE
vSAN will still be the source of storage policy for VMs running on the unconverged nodes.
VMware is not entirely in the lead here: Nutanix has offered similar devolution possibilities for around a year.
VMware's blooming romance with NVIDIA has also evolved, with the latter today announcing "NVIDIA AI Enterprise", a bundle of artificial intelligence software certified to run only on the new vSphere 7 Update 2.
The bundle includes tools from NVIDIA and third parties. But the tools matter less than the packaging for vSphere because NVIDIA feels that having to create bare metal AI rigs deters would-be users from adopting the tech.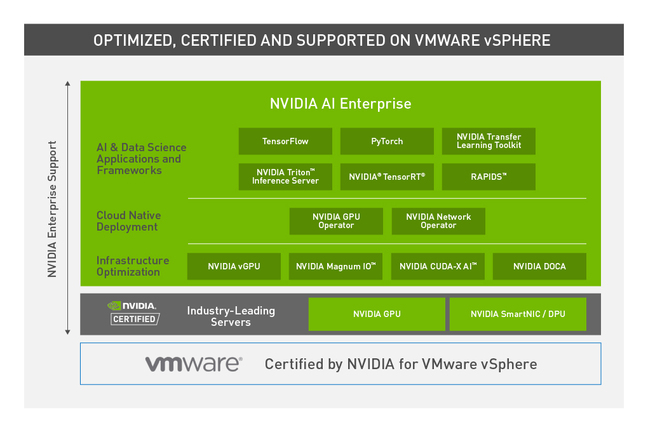 All the bits of NVIDIA AI enterprise. Click to enlarge
Packaging the above as a suite, and making it easily deployable as virtual machines, is thought to speed implementation times and therefore lower barriers to entry. It doesn't hurt that a virtual AI setup lends itself to occasional use and therefore leaves infrastructure free for other tasks.
NVIDIA AI Enterprise offers an unfashionable perpetual licence at $3,595 per CPU socket.
vSphere 7 Update 2 also adds Confidential Containers for vSphere Pods on AMD EPYC processor based servers using Secure Encrypted Virtualization-Encrypted State (SEV-ES). vSphere Native Key Provider is another addition and adds what VMware describes as a "basic key management server". ®