China Telecom to seek Shanghai listing after US investment ban
Plans to build 100,000 servers for 5G industrial edge cloud play
---
China Telecom has announced it will seek a listing on the Shanghai stock exchange, after the US government banned trading of its scrip on the New York Stock Exchange.
In an announcement [PDF] made alongside the company's FY 2020 results, the company proposed an issue of up to 12,093,342,392 shares that could net it around $4bn.
Proceeds of the float will be spent on a 5G "industrial internet", general R&D, and "Cloud-network integration new information infrastructure" that will help to deliver "household Gbps access and AIoT networking capability".
The company posted annual revenue of ~$60bn, four percent year-on-year-growth, with around four percent of revenue coming from cloud services. Investors were told that represents "ranking at forefront in terms of the market share in public cloud in China."
Net profit across all businesses was ~$3.2bn, a 1.6 percent jump.
Company execs were pleased with the result given a certain pandemic has made business conditions tricky over the last year.
5G was a highlight, with 86.5m of 351m mobile subscribers now signed up for the new standard. Total mobile subscriptions grew by 14.45 percent across the year. Over 1,900 industrial customers signed for 5G products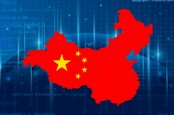 China showing signs of brewing IPv6 eruption
READ MORE
The mega-carrier's capex on broadband, 4G and 5G networks will fall by 12 percent in the new financial year but rise 67 percent for "industrial digitization" in a push that will see the company build 100,000 new servers to power a growing edge cloud business.
The company's FY2021 guidance was for industrial digitization to "Strive to achieve double-digit growth" as the rest of the business aims to "Maintain healthy growth".
Whatever that means on the balance sheet, and whatever numbers the company puts up, US-based investors will struggle to get a piece of the action. ®
Similar topics
Broader topics