This article is more than 1 year old
As battle for future of .UK's Nominet draws closer, non-exec director hits a nerve with for-profit proposal
Suggestion to hand out shares in new registry dismissed as a non-starter
With an extraordinary vote that will define the future of the UK's internet registry operator just two weeks away, the battle lines between the company's management and those seeking an overhaul have been drawn.
The PublicBenefit.uk campaign that has forced a vote to boot Nominet's CEO and chairman from the board, along with two other staff members, continues to show growing support among members of the not-for-profit organisation.
As things stand, 412 members representing 21.2 per cent of the total member vote and 71 per cent of the largest 50 members, have stated publicly they will vote 'yes' to get rid of Nominet's top bosses: a figure that, if it holds, is almost certain to result in a win.
Meanwhile, the strategy of Nominet's current management has been two-fold: pushing the message that the vote is destabilizing while highlighting a reform process it has started, and personally attacking the man behind the PublicBenefit.uk campaign, Simon Blackler.
Nominet is responsible for all .uk domain names and this week produced a new video urging members to vote 'no' "for the greater good."
In a letter to the PublicBenefit.uk campaign, Nominet chairman Mark Wood claimed the .uk operator was persuading yes-leaning members to now back Nominet, thanks to proposed reforms, which include freezing management's wages and domain renewal prices, increasing the amount of money paid to good causes, and creating new ways to communicate with members.
But in a worrying sign that the organisation is reverting to ad hominem attacks rather than engaging with critics' concerns, reports from private meetings that Nominet has held with its largest members indicate that the registry operator has started personally targeting Krystal CEO Simon Blackler.
A second letter on Tuesday, again from Wood, accused Blackler of harassment, targeting of Nominet staff, "bullying clients and customers of Nominet member companies" and even offering Board seats in exchange for a "yes" vote.
That approach has revived painful memories of when Nominet's previous management attacked individual members as well as its own staff and board members who raised concerns, resulting in multiple resignations, shouting matches at annual meetings, and years of bad blood.
Thorny
For the past few days, however, members' ire has been largely directed at member-elected non-executive board director David Thornton, who has been active on social media and a range of forums pitching his vision of a future Nominet.
Among other things, Thornton – whose board seat is not affected by the extraordinary vote – warned one campaign supporter that unless he supported a plan to create a Nominet advisory council, the supporter would be "tainted" and that if the supporter voted yes, they "may find getting partnerships and work with people difficult."
The PublicBenefit.uk campaign shared these words in an email to supporters, arguing it was clearly more important than ever to overhaul Nominet's management team and culture.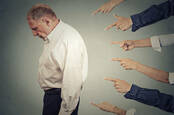 Nominet sets the date for extraordinary meeting where members could fire CEO
READ MORE
Thornton disagreed that he had made a threat. He said his words had been "mischaracterized," telling The Register they had been sent to a friend he was seeking to protect. "Long-term friends can sometimes have particular ways and styles for how they talk, or behave in private, with each other and where neither one ever takes any genuine offense," he argued. "I consider this one sign of a solid friendship."
Thornton attracted further criticism from members and former board members alike when he proposed that Nominet itself be turned from a not-for-profit organisation to a for-profit one, with Nominet members given shares in the new organisation.
That argument went to the very heart of the problem that many Nominet members say has caused so much disruption at the UK's internet registry: a desire by some to take the registry's success and use the resulting revenue to become a commercial entity, and the strongly held view by others (including Nominet's founders and smaller members) that it should remain a not-for-profit organisation whose main focus is on the registry. Members angrily rejected Thornton's idea on Twitter.
The suggestion was also countered by a former Nominet board member, who represents one of Nominet's largest members and said on an industry forum: "David, we discussed this before and I think this is a non-starter. All legal reasons why this is problematic aside, it is also something that is very dangerous to the independence of Nominet as it invites the possibility of capture ... having Nominet as an independent company is critical to the success of the namespace, in my view."
Nevertheless, Thornton told The Register he didn't feel his "draft proposal" had been "widely scrutinized enough." He went on: "In my personal opinion, it is very early days and it will be important for the Nominet board to consider options for governance again at some future juncture. My draft idea could be just one of several."
When asked about his current standing with members, he told us: "Part of my role as an independent elected director is to bring experience, challenge as well as my individual thoughts to the Nominet board table. I recognize that some members may have voted for me, although who actually did is unknown to me unless the members themselves inform me privately, in part because of my industry experience and personality."
The extraordinary vote will take place on March 22, and while it is clear the campaign has won over smaller Nominet members who see an opportunity to finally gain a voice in their organisation, whether the vote passes is still largely reliant on its largest members.
The two largest – GoDaddy and 1&1 – are believed to have already voted against the motion though that won't be sufficient to end the matter outright given the three-per-cent voting cap per member. With what looks like momentum building against Nominet's current management, CEO Russell Haworth and chairman Mark Wood now face an uphill battle to keep hold of their jobs into next month. ®