This article is more than 1 year old
UK draft legislation enshrines the right to repair in law – but don't expect your mobile to suddenly be any easier to fix
Plus Brexity energy efficiency labelling standards thrown in
The UK government has said it plans introduce rules later this year that would enshrine in law the "right to repair".
Under the new regime, manufacturers of (mostly) white goods will be forced to open up their supply chains to consumers and independent repair shops, giving them access to spare parts.
The legislation also includes measures that compel manufacturers to offer maintenance information to consumers, allowing them to read the manual and actually fix their machines without having to reverse-engineer them.
The measures are intended to address planned obsolescence. The government said it expects white goods to last for up to a decade, rather than the average of seven years described by the Whitegoods Trade Association.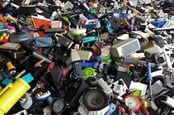 Calls for 'right to repair' electronics laws grow louder across Europe
READ MORE
Unfortunately, the legislation as written does not encompass other hard-to-repair tech products, such as laptops and smartphones, where manufacturers routinely lock up access to spare parts and schematics.
The independent repair sector has repeatedly complained about difficulties accessing replacement components for broken kit, forcing them to rely on a limited supply of parts harvested from donor machines. This has, in turn, raised the cost of performing repairs, and forced consumers to replace defective products that would otherwise be easily fixed.
The planned changes have been preceded by a new energy-rating regime identical to the one introduced EU-wide on March 1. The UK's adoption of this rating standard was agreed in 2018 and 2019, while the UK was still a member of the bloc.
While the previous standard included A+, A++, and A+++ tiers, white goods are now graded on an A-G scale. Requirements, meanwhile, are tougher, with manufacturers forced to meet steep energy consumption targets to clinch a coveted A grade. The only divergence between Brussels and Blighty is skin-deep, with the EU flag replaced by the Union Jack — because Brexit."
UK government claimed the measures will reduce the amount of waste sent to landfill and the UK's carbon emissions by 1.7 mega-tonnes by 2050. Consumers are expected, it added, to save on average £75 on their energy bills each year.
Commenting, Philip Dunne MP, chair of the Environmental Audit Committee, said this planned legislation was a step in the right direction, although he criticised the lack of ambition, particularly when it comes to the recycling and repair of personal electronic devices.
"Earlier this month, the Environmental Audit Committee recommended that the government extend any right-to-repair regime to encompass a wider swath of products. Although the government expressed a vague level of enthusiasm, this has not translated into concrete legislation proposals," Dunne said.
"There should be no contest: consumers should have every right to fix items they own. Making spare parts available is the first step in creating a circular economy where we use, reuse and recycle products. We must stop using and disposing quite so much: we must take action if we are to protect the environment for generations to come."
Kwasi Kwarteng, the Secretary of State for Business, Energy and Industrial Strategy, said: "Our plans to tighten product standards will ensure more of our electrical goods can be fixed rather than thrown on the scrap heap, putting more money back in the pockets of consumers whilst protecting the environment.
"Going forward, our upcoming energy efficiency framework will push electrical products to use even less energy and material resources, saving people money on their bills and reducing carbon emissions as we work to reach net zero by 2050." ®