This article is more than 1 year old
It's wild the lengths Facebook engineers will go to find new ways to show you inane ads about tat: This time, AR...
... and a lot of wrist action
Facebook has outlined what it believes will be the future of online interaction – and it's a device that will sit on your wrist and act as a next-generation mouse.
In a blog post covering the work that the social media giant's Reality Labs carries out, Facebook "unpacks" the "10-year vision of a contextually-aware, AI-powered interface for augmented reality (AR) glasses that can use the information you choose to share, to infer what you want to do, when you want to do it."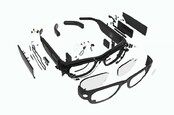 Not content with distorting actual reality, Facebook now wants to build a digital layer for the world
READ MORE
Or, in other words, what the step away from apps on smartphones will look like.
The post is full of unnecessary blue-sky jargon – a quick example: "This AR interface will need to be proactive rather than reactive. It will be an interface that turns intention into action seamlessly, giving us more agency in our own lives and allowing us to stay present with those around us."
But regardless, it is pretty interesting in that how shows the thinking and general conclusions of people who are paid to think ahead. In that sense, it is clear that the Facebook lab folk have zeroed in on the fact that looking at apps on phones is not exactly a hassle-free experience.
Their solution is AR glasses – which will display an interface in front of your face that melds with the real world so you don't have to be in either the virtual world or the real one – and a simple, accurate solution for using that interface.
It's all in the wrist
That's where the wrist-based plan comes in. According to Facebook, the signals that your brain sends to your hands are pretty easy to pick up accurately at your wrist. So if you put a device on your wrist that picks them up, then you would be able to, say, scroll through menus by simply moving your fingers in space.
And, according to Facebook, it is able to accurately measure finger-moving distances of as little as one millimeter, so it won't require everyone waving their arms around. In fact, the lab folk hope that with future versions, they will be able to detect signals in such a way that people won't actually have to move their fingers but simply tell themselves to do so – a truly intuitive interface. But that part is pure tech fantasy at the moment.
In fact, it's all a little fantastical but closer than you might imagine.
Enter Apple... at some point
Apple is expected to come out with some AR glasses possibly this year. Up until now, AR glasses – like the long drawn-out saga of Magic Leap – have been largely proof-of-concept things, and not ready for prime time. Apple could be the one to bring the tech to the mainstream.
Facebook has limited hardware experience though its purchase of VR (as opposed to AR) company Oculus has seen it do some interesting work, even if it has attempted to use its products to force users into the Facebook eco-system.
It is very possible that Facebook's AR glasses, whenever they arrive, will also be ready for the mainstream. But the truth is that even if that is managed, the user interface will be critical to make the glasses more than a novelty: it will need to feel futuristic.
And a wrist-device is a good solution: people are used to having things on their wrists and using their hands and fingers to manipulate objects and interfaces. Win-win. The only question is: will it actually work?
Tech companies have a terrible habit of deciding that if they can imagine something that it must be possible, with enough effort and money, to make it a reality. Sometimes it's just not possible (see flying car stories passim). But hey, it's fun to imagine it is.
And the downside
Of course, if Facebook does actually pull if off, it would have full control of the hardware, which means that it would undoubtedly bake in its business model of sucking up data on every single thing you do in order to sell it to advertisers.
So while pulling up your phone screen in front of your eyes and scrolling through it while twitching your fingers may feel much better and intuitive than having to pull it out your pocket, unlock it and navigate around, that joyful feeling may be diminished by ads stuck in your face and the fact that any company that pays Facebook enough will know pretty much exactly where you are and what you are doing at any given moment. ®