India boosts space program budget by 46 percent
Says demand for space is booming and private enterprise loves its liberalisation plans
India has decided to boost the budget of its space program by 46 percent.
Union Minister of State for Atomic Energy and Space Dr. Jitendra Singh yesterday told India's Parliament that the budget for 2021-22 was increased to ₹13,949 Crore (US$1.9bn) up from the previous ₹9500.
Singh said the increased funding "shall be utilised towards meeting the future challenges and space preparedness." He added that the 3 by the Indian Space Research Organisation (ISRO) has recently convened new committees to consider how best to meet burgeoning demand for space-based communication, Earth observation, navigational and other scientific endeavours.
The Minister also reported on India's 2020 decision to open its space program to private companies, stating: "35 space startups and industries are in consultation with ISRO for support related to various domains of space activity such as development of satellites, launch vehicles, develop applications, provide space-based services etc."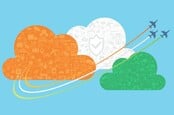 India flies Mach 6 scramjet for 20 whole seconds
READ MORE
India currently operates two launch vehicles. The Polar Satellite Launch Vehicle can handle payloads up to 1,860kg into 475km sun-synchronous polar orbits. The Geosynchronous Satellite Launch Vehicle (GSLV) can carry 2,200kg into – you guessed it – geosynchronous orbit while the GSLV Mark III can handle 4,000kg payloads. For LEO payloads these amounts double respectively to 4,400kg and 8,000kg.
The nation has a proud record of providing commercial satellite launches.
In 2013 ISRO sent a probe named Mangalyaan to Mars. It's still orbiting the red planet , having astounded space wonks with its extremely low US$73m price tag. In 2019 the nation also sent a probe to the Moon at a cost of $141m. While the Chandrayaan orbiter is still doing its thing, the Vikram lander crashed and its Pragyan rover was therefore not deployed.
While the Chandrayaan 2 mission was not a complete success, it was also achieved on a very small budget compared to those used by other spacefaring nations. The boost to India's space budget could therefore go a very long way towards its planned crewed mission and other adventures. ®