This article is more than 1 year old
ServiceNow bakes more ML, low code into Quebec release to push itself as all-encompassing workflow layer
But questions remain over its enterprise app credentials
ServiceNow, the IT helpdesk vendor with a yearning for world domination, has launched its latest platform upgrade, Quebec, which features new AI, low-code app development tools and a bit of process mining thrown in for good measure.
While onlookers told us ServiceNow was meeting the need for automation and putting tools in the hands of enterprises, there was a risk of the compny over-reaching in terms of its claims to be managing data across all arms of customers' businesses.
With Quebec, ServiceNow folds in new products within its Creator Workflows including App Engine Studio, a guided low-code visual development environment aimed at staffers with no coding experience, and App Engine Templates, which gives less-technical users access to pre-built workflow building blocks.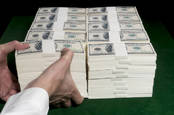 Workflow biz ServiceNow ServiceWows itself by beating Q4 guidance and posting hefty top line growth of 31% for FY2020
READ MORE
Also in the new release is machine learning and AI – in the form of ITOM Predictive AIOps, which is designed to foresee workflow problems. A Virtual Agent is intended to provide guided setup while AI Search offers natural language search promising to help users find what they need without requiring coded queries.
The AI functionality came courtesy of acquisitions Attivio and Loom Systems, which ServiceNow picked up in 2019 and 2020 respectively.
The additions to the platform are designed to boost ServiceNow's efforts to shift from an IT helpdesk, making a pitch for becoming an all-encompassing workflow layer serving HR (eg, employee onboarding) and accounts (eg, expense filling).
"Leveraging one unified platform and data model, customers can continually monitor and optimize business processes," said the company blurb, echoing what CEO Bill McDermott told investors earlier this month at a Morgan Stanley conference.
"All of this is on one architecture, one data model and one platform that goes through the enterprise seamlessly, integrating with everybody innovating for the customer, and helping people execute their mission," he enthused to backers last week.
If all this sounds familiar, that's because it is a very similar spiel to that of Christian Klein, CEO at McDermott's former home SAP, who told his investors in a results call in October last year: "With our cloud platform powered by SAP HANA, processes can be changed, enabling agile workflow. Innovations and extensions can be developed quickly by customers and partners accessing our open platform using exactly the same data model and business services as our own SAP apps."
In ServiceNow's desire to be the "defining enterprise software company of the 21st century", maybe it's good to sound like the companies that already define enterprise software, for good or for ill. But the differences are important.
But are you already knee-deep in our data?
Neil Ward-Dutton, IDC veep for AI and automation practices, said: "Application vendors like Salesforce, SAP and Oracle have as an advantage when they're bringing machine learning in to help you drive effectiveness in your sales closing process, for example, in that they're already storing a lot of your transactional and workflow data."
Whether it's predictive maintenance, supply chain optimisation, HR onboarding, the argument is the same: the application vendors hold the business data.
ServiceNow on the other hand is providing a standardised workflow model, ready to pick up out of the box.
"What ServiceNow is doing is similar [to the application vendors] but there's a nuance which is that actually a lot of enterprise records aren't going to be stored in ServiceNow," Ward-Dutton said.
Chris Pope, VP innovation at ServiceNow, admitted the shifting definitions of "data model" could be confusing.
"Where we've defined it is we have a common service data model for IT which is pretty well adopted and well understood. As we've launched our telco products, financial services products and so on, [they come with their own data models] we'll always have stuff that we ship - let's call it - 'out of the box,' that's core to it and others," he said.
So while ServiceNow might come pre-packed with a data model to help run a process, it is not the same as the data model in which businesses analyse their system of record data.
Nonetheless, Ward-Dutton said ServiceNow is effective at designing systems that help users do their jobs. "Part of what they do is very slick. We hear a lot about how easy it is to use and how they're really designed around the needs of users," he said.
A recent IDC survey of 700 organisations found 60 per cent were looking to invest in automation and 55 per cent were looking to invest in machine learning and AI to help with their Covid recovery, so ServiceNow's investments in these areas made sense, Ward-Dutton added.
But whether that helps ServiceNow to be seen as an enterprise software company in the same sense as SAP, Oracle or the other application vendors is a moot point.
Stuart Robb, executive vice-president and management consultant with Third Stage, who has worked with both SAP and ServiceNow, said clients would not see ServiceNow as a system of record.
"It does have very good workflow which makes it very good for service ticketing. There are all sorts of things that you can do in ServiceNow if you have access to the right data. The question is: 'What problem is it trying to solve?' But nobody is saying, 'Let's build out our data model in ServiceNow'," Robb opined. ®