This article is more than 1 year old
Four women, including TV star, thought they were investing in a software business. It was a scam. Now the perp's going to jail
'Predator' sent down for eight years after pocketing hundreds of thousands of dollars
A man who conned four women out of hundreds of thousands of dollars by falsely claiming they were investing in a software biz was this week sentenced to eight years behind bars.
Between May 2015 and October 2018, Antonio Mariot Wilson, 58, first dated the women – one of whom was an actor in hit TV series Black-ish – and then persuaded them to join him as a business partner in a software company called 2nd Life that helped applicants for government benefits. He gave them unregistered securities in the outfit and stock agreements in exchange for checks and bank transfers, according to court docs [PDF] filed in a US federal court in California.
In reality, he pocketed the money to pay off credit cards, pay his rent, and buy luxury items, prosecutors said.
Wilson met two of the women through a business version of the Bumble dating app called Bumble Bizz, met actor Jenifer Lewis while a manager at a Los Angeles gym, and had known the fourth woman for several years prior to his scam.
He conned a total of $347,000 from his victims, and the court has ordered him to pay back $272,000 of it, having already returned $75,000. It was moving some of this money led to him being charged with wire fraud [PDF].
As the women grew suspicious of Wilson, an extraordinary story of deception emerged. A decade earlier, he had pleaded guilty in a northern California to wire fraud and tax evasion for a very similar scam in which he persuaded people they were investing in a sound company called Ultimate FX. He served four years in federal prison for the crime.
Back then, he was prosecuted under an alias, Brice Carrington. Years later, and now in Santa Monica, southern California, Wilson continued to tout his business success with Ultimate FX, boasting to his victims its product was used by the ABC television network and EA Sports for sound effects.
Deeper and deeper
That was only the beginning of the lies. Wilson also claimed that he had been a member of the Navy's elite Seals teams, and that he had graduated from the University of Oxford in the UK.
He told one victim he was an Oxford professor teaching courses at the University of California in Los Angeles (UCLA) on biblical antiquities, which led prosecutors to yet another alias: Dr Tony Mariot.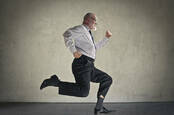 Eighty-year-old US 'web scam man' on the run after pocketing $250,000 in Dem 'donations'
READ MORE
Dr Mariot, we note, has written three books around Christianity, and has his own Amazon author page in which he claims to "hold a Doctorate in Philosophy from the University of Oxford at Christ Church" while also noting he was raised by a single mum in Los Angeles and served in the US Navy for 12 years.
Wilson persisted with his lies even after investigators started questioning him. He provided them with what he claimed were official documents proving his Seal career and Oxford degree. That prompted prosecutors to contact the Navy and University of Oxford, who both confirmed he was lying. The fact that Wilson likely forged the documents added to the case against him.
Behind the business persona, Wilson led an entirely different life. He has a wife and two daughters, and for years the family had been homeless while living in Santa Monica. According to him, the four of them spent years sleeping in the same car at night while his daughters attended the coastal city's High School, and the fraud allowed him to eventually rent an apartment.
His teenage daughters submitted short statements to the court in which they described a dedicated father who "made sure that we have food and clothes" and "always taught us to have good qualities and moral values."
Pee Tee Ess Dee
Having pleading guilty to wire fraud, Wilson provided the court with a long explanation [PDF] for why he shouldn't be given a jail sentence. He claimed his step-father had sexually abused his relatives, resulting in a lifelong trauma, and that he had PTSD from his time in the Navy. But it's unclear how much of the statement is true given his long history of elaborate lies.
Remarkably, the 2nd Life Santa Monica "software" company that Wilson falsely claimed was worth $30m, and told his victims they were investing in, has a website up and running and comes across as a plausible business that, for $3.99, gives people access to videos that help them apply for government support schemes. Its Twitter account is suspended for breaking the social network's rules, we note. The mobile apps it touts aren't present in the Apple and Google stores – though an Android build did exist once, at least, from what we can tell.
Despite the letters of support from his family, the prosecutors and judge made it plain that they considered Wilson a dangerous man. "It is the emotional impact that this crime had on his victims that makes it particularly egregious," prosecutors wrote in a sentencing memorandum. "He not only conned people out of their money, but he also did so by betraying their trust after forging intimate relationships with them. The impact of such a fraud is more than financial; it is personal."
The judge gave him 48 hours to surrender to the Federal Bureau of Prisons while noting that "predator is not usually a term referred to in the fraud context, but it is an apt description here." ®