This article is more than 1 year old
OVH founder says UPS fixed up day before blaze is early suspect as source of data centre destruction
Cloud company offers slightly confused roadmap to restoration
French cloud provider OVH has suggested a UPS could be the cause of the fire that destroyed one of its data centres and took another three offline.
Company founder and chair Octave Klaba has posted a video offering his apology and, at around the 5:50 mark said that the fire department's thermic camera images suggested two uninterruptible power supplies were the source of the fire at SBG2. Klaba added that one of the UPSes had been tuned up by its supplier the morning before the fire.
"The supplier came and replaced a lot of pieces," he said. The device was put back into service and appears to have worked normally.
OHV has 300 cameras inside its Strasbourg data centres, and Klaba said footage from them is already being retrieved in the hope the cause of the fire can be determined.
If the cause of the blaze was a UPS, it could be somewhat exculpatory for OVH because while data centres are equipped with fire suppression systems the kind of conflagration caused by a runaway battery fire can be very hard to quell. And of course if the device was not properly maintained, OVH's culpability could diminish further. Klaba did, however, say that SBG2 was commissioned in 2011, was built to the standards of the day, and that OVH now constructs more resilient facilities.
Whatever the cause of the blaze, OVH has offered more information about its restoration plans in a Thursday afternoon statement and somewhat less well-formatted OVH's status page update that both say the SBG2 data centre in Strasbourg "will need to be almost entirely reconstructed."
SBG1 was "heavily damaged" and servers in racks 61Bxx, 61Cxx, 62Bxx and 62Cxx within the bit barn were "severely affected". However, a preliminary audit has led OVH to suggest that SBG1's network room "will be restored at the beginning of next week", with a provisional power on date of Monday, March 15. In the days that follow, each of the remaining eight rooms of SBG1 will be activated and tested in the hope of restoring services.
The status updates also say that early assessments of SBG3 and SBG4 suggest both are unscathed, with the former untouched by the blaze. OVH says it hopes to restore power to both in the week of March 22, and "then gradually reactivate all services."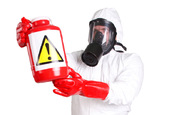 Tech team trapped in data centre as hypoxic gas flooded in. Again
READ MORE
However, a new FAQ offers slightly different deadlines, saying plans call for SBG1 and SBG4 to be online "next week," with SBG3 to return "in 1-2 weeks."
OVH says it is "in the process of cleaning up and repairing the damaged buildings to guarantee a safe working environment for our teams" but doesn't say why that means SBG1 will be powered on before the undamaged SBG3 and SBG4.
Customers who can't wait for OVH to restore services, or get its story straight, have been told the firm is working fast to get new servers racked and ready on its Roubaix and Gravelines sites.
"We will further enhance availability in these data centers, with the production of nearly 10,000 new servers in the coming weeks. Affected customers will be notified about this process as soon as possible," the statements all say.
Klaba's video added that OVH has ordered servers without the customization it usually requests, to speed things up.
He made no mention of whether equipment in SBG1, SBG3 and SBG4 might have been damaged by the release of hypoxic gas, which floods out with such force that it can destroy disks. ®