This article is more than 1 year old
Australia, India, Japan, and USA create joint critical tech working group
'Quad' group wants alternatives to China. Also freedom and governance that reflects shared values
The first "Quad summit" of leaders from Australia, India, Japan, and the USA has announced the group will create a "Critical and Emerging Technology Working Group".
"The Quad" is an increasingly tight grouping aimed at reminding China that it faces liked-minded allies that are not afraid to exert economic and military influence across the Indo-Pacific region.
The group staged its first-ever leaders' summit – albeit virtually - over the weekend after years of lower-level and sporadic meetings.
The joint "Spirit of the Quad" statment said the group will: "respond to the economic and health impacts of COVID-19, combat climate change, and address shared challenges, including in cyber space, critical technologies, counterterrorism, quality infrastructure investment, and humanitarian-assistance and disaster-relief as well as maritime domains."
The fact sheet issued after the summit listed coronavirus vaccination distribution as the group's first priority and action on climate change as its second.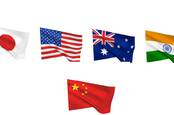 'Quad' nations sign up for meta think-tank to advance 'Techno-Democratic Statecraft'
READ MORE
The third outcome of the meeting was establishment of "The Quad Critical and Emerging Technology Working Group".
"Quad leaders recognize that a free, open, inclusive, and resilient Indo-Pacific requires that critical and emerging technology is governed and operates according to shared interests and values," the fact sheet said.
To make that happen, the new Working Group will:
Develop a statement of principles on technology design, development, and use;
Facilitate coordination on technology standards development, including between our national technology standards bodies and working with a broad range of partners;
Encourage cooperation on telecommunications deployment, diversification of equipment suppliers, and future telecommunications, including through close cooperation with our private sectors and industry;
Facilitate cooperation to monitor trends and opportunities related to developments in critical and emerging technology, including biotechnology;
Convene dialogues on critical technology supply chains.
The top three points continue a theme from Quad conversations in 2020 that suggested a joint approach to 5G development, while seeking to diversify the pool of 5G suppliers given Huawei is banned to some degree by all four quad members.
The fourth point calls out biotech, but with China last week making quantum technology and AI core parts of its 14th five-year plan the four Quad members clearly have a good reason to keep an eye on those technologies too.
Quad-watchers predicted that the group could outline a plan to counter China's fortunate status as home to Earth's largest deposits of the rare earths essential to electronics manufacturing. The last point from the Fact Sheet doesn't do so, but its reference "critical supply chains" could easily apply to rare earths, or to the many commodities made in China for which there are currently few alternative sources.
Whatever the exact meaning of that final point, the Quad summit agreed to convene an in-person summit of leaders by the end of 2021 and promised ongoing meetings of officials and annual get-togethers for the four nations' foreign ministers. ®