This article is more than 1 year old
UK taxman plonks £23bn (sorry HMRC meant £23m) on the table, asks vendors: OK, so what can you do for us in terms of 'mobility services'?
Shuffling the pork barrel again
Updated UK tax collector Her Majesty's Revenue & Customs is looking to have a friendly chat with tech vendors as part of its plan to contract £23.1bn in "mobility services".
The "pre-market engagement exercise" launched this week is designed to help understand what the market could provide in terms of "Mobility and Workplace Services" – laptops, phones, tablets, virtual desktops, and workstations. It also includes services such as central login mechanisms, identity and admin infrastructure, collaboration and monitoring tools.
According to a tender document, HMRC wants to "understand the capabilities, innovation and opportunities available in the marketplace for Mobility and Workplace Services".
So it is giving suppliers "the opportunity to provide information on what they believe HMRC will need to consider when formulating their requirements to ensure that it is aligned to where the market stands," the prior information notice said.
Early market engagement is standard procurement practice for novel or complex technologies – it's a way of making sure the process of buying does not prohibit suppliers from offering their best services, technology or (whisper it) value for money. What HMRC needs to know about basic tech such as laptops and remote working remains to be seen, but the size of the potential deal on offer may provide clues.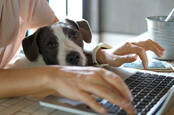 Big Tech workers prefer 3 days at home, 2 in the office. We ask Reg readers: What's your home-office balance?
READ MORE
"HMRC [is] interested in hearing ideas from different organisations who can offer increased value through economies of scale, operational efficiencies or alternative methods of delivering the service as well as flexibility in approach as HMRC's ways of working are changing," the tender said.
The wider world's way of working has also changed since COVID-19 and not all employees will be returning to offices in quite the same frequency again. Dell, Fujitsu, Microsoft, Salesforce and others have said as much.
Whatever the tax collection agency aspires to, suppliers might have to regurgitate a bowlful of jargon spaghetti to get their feet under the table. The lucky partner can look forward to "proactively managing" its services to "ensure a positive digital experience... creating a frictionless IT environment across HMRC."
"HMRC is looking to work with a technology partner who can support the HMRC vision to develop digital workplace strategy, manages risk and efficiency, and promotes collaborative dialogue to form a long-term relationship," the tender document said.
The closing date for suppliers to express interest is the end of March 2021. The expected duration of any contract has not been revealed.
Mobility services are not the only reason HMRC is dipping its toe in the water with suppliers.
In September 2020, HMRC said it was considering opening up its entire £900m annual IT budget to the wider supplier landscape via a new Technology Sourcing Programme (TSP).
That tender document said it was planning on "breaking down and addressing" the technology spending plan with TSP with a "market engagement event" in October.
Also in September, HMRC agreed a two-year contract extension with Fujitsu for managed desktop services supporting 65,000 employees.
Updated on 18 March at 14.44 to add:
Following publication of this article, a red-faced HMRC contacted us to say that due to an "input error" the £23bn figure is incorrect. The money it has set aside for this framework is actually... £23m. ®