This article is more than 1 year old
If you liked AMD's Zen 2 Epyc server chips, you'll probably like its Zen 3 Milan processors
Core counts and clock speed about the same though architecture work said to bring performance boost
AMD on Monday showed off its family of third-generation Epyc server processors code-named Milan.
This follows last year's Rome launch. Milan's Zen 3 architecture has already appeared in parts for desktop and laptop computers.
On paper, Milan is a continuation of Rome, and evidence that AMD can ship chips to enterprises and clouds more than anything else. AMD reckons its Zen 3 architecture is 19 per cent faster than Zen 2.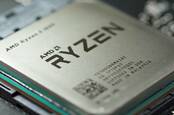 AMD's Lisa Su: Our processor sales are Ryzen faster than the PC market is growing
READ MORE
Like Rome, Milan has up to 64 x64 cores and 128 threads per socket; the CPU dies are TSMC 7nm; and each processor can handle up to 4TB of 8 x DDR4-3200 RAM, and provide x128 PCIe 4. The IO die is still 14nm and fabbed by GlobalFoundries.
Unlike Rome, Milan has eight CPU cores and 32MB of shared cache per core complex, double the previous generation. Milan brings to the Epyc series support for shadow stacks to help thwart exploits that use return-orientated programming and similar techniques (Intel has similar tech.)
Milan also introduces, as part of its encrypted virtualization feature set, secure nested paging [PDF], which is designed to protect guest OSes from malicious snooping hypervisors. This is aimed at clouds that want or need to give customers some peace of mind.
There are 19 variants of Milan available. At the top, there's the $7,890 Epyc 7763 with 64 cores, a base clock speed of 2.45GHz, and a boost to 3.50GHz. There's also a $2,468 eight-core 72F3 with a top clock speed of 4.1GHz that caught our eye. And at the bottom of the price range, there's the $913 7313P with 16 cores. These prices are available to those buying in bundles of 1,000. Milan therefore can exceed 4GHz as its ceiling clock speed, though the clock frequencies are about the same as Rome, generally.
Below is the pipeline diagram for the Zen 3 architecture inside Milan. There's 32KB of instruction and 32KB of data cache per CPU core, as well as 512KB of L2 cache, and up to six operations per cycle can be fed into the integer or floating-point engines.
Compared to Zen 2, the third generation has an operation queue and dispatcher rather than a micro-op queue approach, and has an improved branch prediction system. That basically means the chip is able to keep itself busier and run code faster by anticipating the path of execution through an application.
Second and third-generation Zen compared ... Click to enlarge
The Epyc 7003-series processors are said to be available to order now. Amazon Web Services, Google Cloud, and Microsoft Azure are among the hyperscalers deploying or will deploy the chips for customers. System builders, such as Dell, HPE, and Lenovo, will offer the processor family, too, we're told.
For analysis and commentary, check out this coverage by our sister site The Next Platform. "This is the X86 server processor that customers no doubt will wish AMD had delivered many, many years ago," notes TNP's Timothy Prickett Morgan. ®