ICYMI: A mom is accused of harassing daughter's cheerleader rivals with humiliating deepfake vids
Awesome, oh wow, like totally freak me out ... with this unexpected use of AI
A 50-year-old mother allegedly used machine-learning software to generate fake footage of her young daughter's cheerleader rivals naked, drinking booze, and vaping in a bid to drive them out of their squad.
Rafaella Spone was this month arrested and charged with three counts apiece of harassment and cyber harassment of a child. Police in Hilltown Township, Pennsylvania, began investigating when three high-school students in the US state said they started receiving strange text messages and video clips from various unknown cellphone numbers.
A mother of one girl said her daughter received a message reading, "you should kill yourself," along with photos of the child doctored to show her naked, vaping, and drinking alcohol. An altered video of the student vaping was also sent to the owner of her cheerleader gym, which could have caused her to be kicked out, it is claimed.
Another student was sent a photo of her pictured in a bikini with the words "toxic traits, revenge, dating boys, and smoking" written across it. The third teenager was accused of "drinking at the shore," and smoking pot.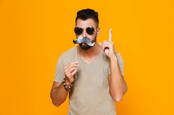 US Senate approves deepfake bill to defend against manipulated media
READ MORE
The images and videos, however, appear to be digitally altered by AI-based deepfake-creating software, with the students' faces pasted onto other people's bodies. All three students are part of the same cheerleading squad. Officers reviewing the material believe the content is "the work of a program that is or is similar to 'Deep Fakes'," according to a criminal complaint obtained by The Register that we are not sharing as it contains sensitive information about juveniles.
The teenagers' faces were scraped from their public social media profiles, it is said.
Police said they got a search warrant to extract from a VoIP business the IP addresses used to send the text messages to the young cheerleaders. Those IP addresses, we're told, belonged to Spone's Verizon account. The cops swooped on her home in Chalfont, New Britain Township, and seized laptops, phones, and other electronics inside, and said they found enough evidence to charge her.
It is believed Spone was trying to force her daughter's rivals off their team, either by landing them in trouble or embarrassing them, according to The Philadelphia Inquirer. The mother is expected to appear in a preliminary court hearing on March 30. ®