This article is more than 1 year old
Microsoft fixes the thing it broke via another dose of out-of-band patching to deal with BSOD printing problems
It's already a great week at Redmond
Microsoft has taken the increasingly normal step of releasing an out-of-band update to deal with the printer issue it introduced last week.
"Microsoft identified an issue that affects Windows 10 devices which applied the March 2021 security update released March 9, 2021," explained the Windows giant, "and a resolution has been expedited."
The issue referred to is a Blue Screen of Death that occurred for owners of certain printers following an update last week.
One Register reader, who works for a printer maker, reported issues with a variety of devices from around the world. Those afflicted would not simply be shown an error pop-up, as seen the last time Microsoft broke printing, but would instead be shown the door via a helpful BSOD.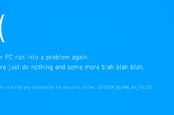 Another Windows 10 patch that breaks printers ups ante to full-on Blue Screen of Death
READ MORE
As with last year's print woes, Microsoft has rushed out an update to deal with its latest handiwork.
Fixes have been emitted across the Windows 10 and Server spectrum, including versions 1803, 1809, 2004 and 20H2. The fix is, however, optional and requires the user to manually install it and even then only "if you are affected by this issue."
Helpfully, Microsoft failed to specify which printers are affected. Instead, devices using "certain Type 3 printer drivers" might get a visit from the BSOD fairy. So if you've not tried printing since applying last week's patch, we'd suggest making sure everything is saved and backed up before crossing your fingers and clicking the Print button, just in case.
It is unclear how Microsoft has managed to break printing in Windows 10 once again, less than a year since the last time it did so. Still, at least it managed to issue a fix, even as other parts of its empire came crashing to the ground in an outage last night that seemingly followed a botched change to an authentication system.
It is almost as if the company does not test things properly before unleashing them on the world. ®