This article is more than 1 year old
Obtaining US 5G supremacy is easy as Pai, says FCC commish Brendan Carr. It's all in the spectrum
America ranks behind China, South Korea and even.... Great Britain in spectrum availability
Establishing US supremacy in 5G will require the release of more spectrum, FCC commissioner Brendan Carr claimed in a speech to the American Enterprise Institute this week.
In his talk [PDF], delivered remotely due to COVID-19 restrictions, Carr bemoaned previous failings in infrastructure deployments and spectrum availability. These failings, he said, prevented the US from achieving the same levels of 5G penetration that other countries have experienced.
"On the infrastructure side, it took too long and cost too much for US providers to build the hundreds of thousands of new cell sites needed for 5G," he said.
"Between 2012 and 2016, for instance, the construction of new cell sites in this country had essentially flatlined. We were averaging fewer than three new sites a day over that time period. In comparison, China started putting up about 460 sites per day."
This, he said, was due to the comparatively higher costs of new infrastructure deployments, with US carriers spending three times as much as those elsewhere. He attributed this to the expense and complexity of obtaining permits to commence work.
Spectrum availability, meanwhile, simply wasn't there for carriers to start commercial 5G deployments. "The US ranked well behind China, the UK, South Korea, Japan, and Germany in spectrum availability. We had zero mid-band spectrum for 5G at a point in time when other countries had 300 MHz or more," he said.
Reversing this required the FCC to liberate spectrum across all bands, as well as a liberalisation of the infrastructure rules (Carr, a Republican appointed during the Trump era, shares his party's instinctive dislike of what it perceives to be over-regulation) to limit "environmental and historic preservation rules."
The commission also limited the fees and delays that could be imposed at a local and state level, while adding expedited upgrade processes for the Covid-19 pandemic.
"On the spectrum side, we knew that 5G would be delivered over every spectrum band. So we pursued an all-of-the-above strategy. On high-band, we launched the world's first 5G spectrum auction in 2018 and went on to hold several more, bringing thousands of megahertz of spectrum to market. On low-band, we completed the transition work needed to free up the 600 MHz band in addition to modifying the rules for the 800 MHz and 900 MHz bands to enable more high-speed builds," he said.
"On mid-band, though, the US had very clearly fallen behind. And in 2017, when leadership changed at the FCC, the agency had no mid-band spectrum in the pipeline. So we put in the legwork to correct this mistake," he added. This has cumulatively allowed for over 6Ghz of licensed 5G spectrum, as well as "thousands of megahertz" of unlicensed spectrum that can be used in private 5G deployments.
Not exactly unbiased
Carr's speech, made to a conservative think tank, had its fair share of partisan undertones, with the commissioner heaping praise on the Pai-era FCC, while tacitly hinting at the perceived failures of the Obama Era. He also echoed the previous administration's opposition to network neutrality, describing it as "a push for rate regulation" and "misguided."
This would seemingly be in opposition to the position of the current FCC acting chairwoman, Jessica Rosenworcel, who voted in favour of the net neutrality rules in 2015 [PDF].
Nonetheless, there's no indication of any major changes of priority during the Biden Era when it comes to spectrum access, with Carr outlining several proposed auctions due to take place in the coming three years.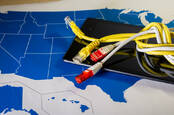 New FCC boss leaps into action by… creating three committees to look at longstanding problems and come back at some point
READ MORE
Carr expressed hopes that US Congress would allow the commission to auction off 100Mhz of spectrum in the 3.45Ghz band, and over 100Mhz in the 2.5Ghz band, which he described as "prime, mid-band spectrum that needs to get to market ASAP."
FCC chief Rosenworcel has circulated a draft order that would make 100 megahertz of spectrum in the 3.45-3.55 GHz band available for auction and 5G deployment. The commission will vote on that proposal at a meeting tomorrow. If it passes, bidding will begin in early October 2021.
Separately, Carr said the commission should permit very-low power devices in the 6Ghz band, which would allow for greater consumer 5G applications, including wireless VR and AR devices, while also increasing the power levels of devices in the lightly-governed CBRS (Citizens Broadband Radio Service) 3.5Ghz spectrum, which could conceivably find a home in private cellular network systems.
In the not-so-distant future, the FCC would like to see more auctions that would free-up access in the low- and mid-bands, as well as another sale of mmWave spectrum (with Carr highlighting the 42Ghz band as a "prime candidate"). He also expressed a hope that the FCC would unlock bands above 95Ghz, with the terahertz bands potentially useful for "short-range applications" and 6G technologies.
His words echo Rosenworcel on the matter, who said [PDF] back in 2018 that: "These way-up there airwaves represent the new frontier... There is something undeniably cool about putting these stratospheric frequencies to use and converting their propagation challenges into opportunity." She added, "I fear our unwillingness to do so will balkanize spectrum and cut short the possibilities."
Also featuring highly on Carr's wishlist was a revamp of the commission's broadband maps project, in order to limit the focus to data that would be useful in 5G and rural fixed-line deployments, a skills program to increase the number of telecoms techies, and rules that would "simplify" the deployment of infrastructure on federally owned land. ®