This article is more than 1 year old
Good news: An end is in sight for the COVID-19 pandemic. Bad news: Nitrogen dioxide pollution is on the up as life returns to normal
Say goodbye to the lovely cleaner air we've been breathing for a year
The COVID-19 pandemic has passed the one-year mark, and as vaccines roll out, there is light at the end of this long, dark tunnel. Here's something to dampen the spirits, though: global air pollution levels are rising, thanks to increased human activity.
A year ago, Europe's Copernicus Atmosphere Monitoring Service (CAMS), found that nitrogen dioxide emissions had dropped in China by about 35 per cent from February 2019 to 2020. Now one year later, the levels have pretty much bounced back.
Outside the Middle Kingdom's capital, such as the municipality of Chongqing, nitrogen dioxide fell to about 45 per cent but has now come back with a vengeance, returning to levels nearly twice that before the pandemic. Data collected by the Copernicus Sentinel-5P satellite shows the concentration of the air pollutant in red over China. Darker areas signal higher amounts of NO2.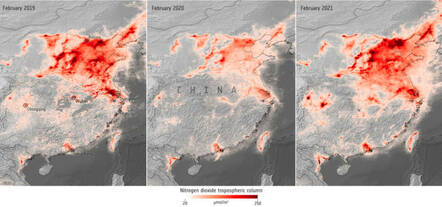 Things are getting back to bad ... Return of nitrogen dioxide. Source: ESA. Click to enlarge
Although these readings are from China, there are signs that air pollution is or will be increasing in Europe and elsewhere around the world, too, as shelter-at-home restrictions ease. As people get back to their previous lifestyles, the number of people driving in cars and flying around the world is going up. Factories are reopening, too, leading to an increase in pollution.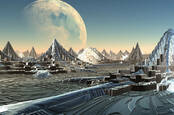 Memo to scientists. Looking for intelligent life? Have you tried checking for worlds with a lot of industrial pollution?
READ MORE
"We expected air pollution to rebound as lockdowns are lifted across the globe," said Claus Zehner, ESA's Copernicus Sentinel-5P mission manager, on Monday.
"Nitrogen dioxide concentrations in our atmosphere do not depend on human activity alone. Weather conditions such as wind speed and cloud cover also affect those levels, however a large quantity of these reductions are due to restrictions being eased. In the coming weeks and months, we expect increases of nitrogen dioxide concentrations also over Europe."
Governments around the world are hopeful that the end of the COVID-19 pandemic is in sight. Numerous vaccines have been approved, and more and more people are being vaccinated each day.
A total of 120,632,510 COVID-19 cases have been recorded in 219 countries and territories so far, and it has killed 2,668,467 people as of March 15, according to this data. With a world population of about 7.6 billion, that means more than one in 100 people caught the virus, and more than one in 50 of those folks died, amid various levels of lockdowns and travel bans. ®