This article is more than 1 year old
Ex-Microsoft exec admits he tried to swindle $5.5m out of taxpayers with COVID-19 relief loans for bogus biz
Mukund Mohan invented employees, financial figures in application forms
A former Microsoft executive has admitted he tried to rip off the US government by claiming $5.5m in COVID-19 funding for a string of fake businesses.
Washington-based Mukund Mohan, 48, was charged with one count of wire fraud and one count of money laundering in July. And it all centers around loans from Uncle Sam's Paycheck Protection Program (PPP), which was designed to help companies keep staff on the payroll during the hard times of the pandemic.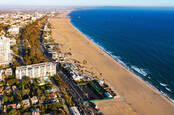 Four women, including TV star, thought they were investing in a software business. It was a scam. Now the perp's going to jail
READ MORE
Mohan claimed in loan documents that his outfits employed dozens of people, and he forged corporate documents – including tax documents and incorporation information – to back up his applications. Yet all of his companies – Zuput, GitGrow, Vangal, Expect Success, Mahenjo, and Zigantic – were no more than shells, and the employees he claimed to be supporting with the federal funds didn't exist.
He applied for eight loans totaling $5.5m. Two were cancelled and one was withdrawn by Mohan, though he was successfully approved for the other five and received $2.57 million. Prosecutors say [PDF] he tried to launder $231,000 of it through a Robinhood brokerage account.
At the time, Mohan was CTO and head of sales at BuildDirect.com, which connects consumers with contractors. Between 2011 and 2013 he worked for Microsoft as a director at its VC arm, Microsoft Ventures, and then as a director of engineering until 2015.
All false
As one example of his fraudulent activity, Mohan said in a letter as part of his loan application that one company – Mahenjo Inc – had dozens of workers and paid millions of dollars in employee wages and payroll taxes in 2019. He then submitted incorporation documents showing that he had started the company in 2018, and had filed federal unemployment tax forms for 2019.
But it was all fake: he had purchased the company over the internet in May 2020, and it had no employees and carried out no business. All the information submitted was bogus.
The good news is that the Feds, once they caught wind of his scam, were able to recoup all but $16,000 of the $2.57m that Mohan swindled out of taxpayers. And he will end up out of pocket, having agreed as part of his guilty plea to pay $100,000 as a fine.
Wire fraud carries a maximum sentence of 20 years and money laundering 10 years. But thanks to his early admission of wrongdoing, Mohan is likely to receive a much lighter sentence. ®