This article is more than 1 year old
FCC moves forward with plan to ban three Chinese telcos from American market
China Unicom, Pacific Networks, ComNet all due for removal
America's telecom market federal regulator, the FCC, today initiated the final step in a booting three Chinese telcos from the Land of the Free, saying they had failed to allay national security concerns.
The announcement follows a decision by the communications watchdog in December last year to begin a proceeding to determine whether to revoke the FCC license for China Unicom Americas, Pacific Networks, and ComNet to operate in the United States.
That decision followed Orders [PDF] to Show Cause [PDF] issued against the orgs by the FCC in April 2020 that noted each was "ultimately subject to the ownership and control of the Chinese government" and directed them to "explain why the Commission should not start the process of revoking their domestic and international section authorizations enabling them to operate in the United States."
Then-chairman of the FCC, Ajit Pai, noted at the time [DOCX] that the Orders to Show Cause "reflect our deep concern… about these companies' vulnerability to the exploitation, influence, and control of the Chinese Communist Party... We simply cannot take a risk and hope for the best when it comes to the security of our networks."
The orders followed a rejection in May 2019 of an application from China Mobile USA to operate in the United States by the FCC on national security and law enforcement grounds following what it said [PDF] was a "consultation with the US intelligence community [and] the US Department of Commerce's NTIA." At the time, the FCC noted it was "the first instance in which Executive Branch agencies have recommended that the FCC deny a section 214 application due to national security and law enforcement concerns."
Section 214
Under Section 214 of the Telecommunications Act of 1996, the Commission:
shall have power to issue such certificate as applied for, or to refuse to issue it, or to issue it for a portion or portions of a line, or extension thereof, or discontinuance, reduction, or impairment of service, described in the application, or for the partial exercise only of such right or privilege, and may attach to the issuance of the certificate such terms and conditions as in its judgment the public convenience and necessity may require.
The FCC was also facing pressure from the White House, during the administration of President Donald Trump, over the issue.
In April 2020, under Executive Order 13913, the president ordered that a Committee for the Assessment of Foreign Participation in the United States Telecommunications Services Sector chaired by the US Attorney General and including the Secretary of Defense, the Secretary of Homeland Security, and other agency heads be set up with its "primary objective" to "assist the FCC in its public interest review of national security and law enforcement concerns that may be raised by foreign participation in the United States telecommunications services sector."
In today's announcement, under a new FCC chair, Jessica Rosenworcel, that action has been continued and the telco inspector noted that: "Promotion of national security is an integral part of the Commission's public interest responsibility, and today's action seeks to protect the nation's telecommunications infrastructure from potential security threats."
Subsidiaries
It again noted the connection to the Middle Kingdom's ruling political party: "China Unicom Americas is indirectly and ultimately owned and controlled by the government of the People's Republic of China. The Commission has raised concerns regarding the vulnerability of subsidiaries of Chinese state-owned enterprises to the exploitation, influence, and control of the Chinese government."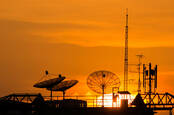 FCC announces winners in $81bn 5G spectrum auction. Congrats to Verizon, which must cough up $45.4bn
READ MORE
The proceeding stated that the airwaves custodian had also "determined that China Unicom Americas has failed at this stage to dispel serious concerns regarding its retention of section 214 authority in the United States."
A separate statement by FCC Commissioner Brendan Carr noted with respect to the process over China Unicom Americas, Pacific Networks, and ComNet that: "These three carriers provided incomplete and inconsistent responses that failed to address these threats and in turn raised fresh concerns about their ability to follow FCC rules."
He added: "The threat to our networks from entities aligned with Communist China is one that we must address head on, and I am pleased that the FCC continues to show the strength and resolve necessary to meet this menace. When it comes to Communist China, we have set a high bar for action over the last few years, and I look forward to continuing to work with my FCC colleagues on ways to protect America's communications networks and in turn our national security." ®