Samsung updates chart-topping A-series Galaxy smartphones with a few more bells and whistles – even topping the S20 FE
Camera and battery are the big upgrades, but the 3.5mm jack appears to be gone
In the first quarter of 2020, the world's best-selling Android smartphone wasn't a premium device from Samsung or Huawei. Analyst Strategy Analytics' tally had Samsung's mid-range A51 on top of the pile, with 2.3 per cent market share, ahead of Xiaomi's Redmi 8 on 1.9 per cent and the Galaxy S20+ trailing with a mere 1.7 per cent.
The A-series do particularly well in the developing world, where their combination of strong specs and modest prices are attractive. So now Samsung has released a sequel: the A52, plus a 5G variant, a slightly larger A72, plus an updated member of the more modestly-specced A32 range.
The biggest jump in the A52 and A72 is to 64MP for the main rear-facing shooter, up from 48MP. The new model still has four cameras, one for ultra-wide shots, one for depth and one for macro shots, but their specs seem unchanged from last year's model. The front-facing shooter remains a 32MP affair. The A72 is big enough to include 3x optical zoom.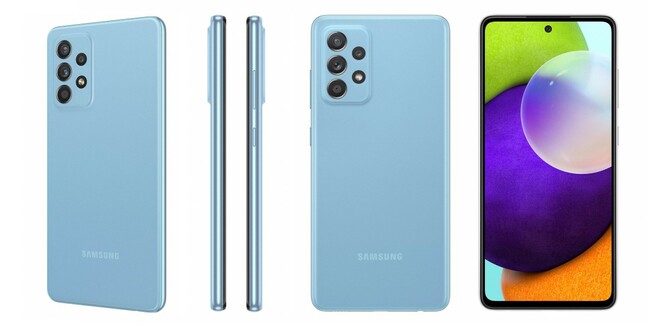 The Galaxy A52. Click to enlarge
Power and size
The battery has grown from 4,000mAh to 4,500, or 5,000 on the A72. Samsung said that can suffice for two days of operations, thanks to new AI that learns your usage patterns and optimises performance accordingly.
The phone has grown a little: it's now 75.1 x 159.9 x 8.4mm and 189g. Last year's model was 73.6 x 158.5 x 7.9mm. Screen size remains unchanged with a 6.5" FHD+ Super AMOLED Infinity-O Display at 1080 x 2400 on offer, or a 6.7-incher in the model A72.
The 5G A52 adds 120Hz refresh rate, up from the 90Hz in the other models.
The CPU has eight cores, two at 2.3GHz and the remainder at 1.8GHz. Samsung hasn't said what CPU is employed, which it sometimes does when mixing and matching third-party kit with its own Exynos silicon. For what it's worth, the core configuration is optional in some variants of the Qualcomm Snapdragon 732.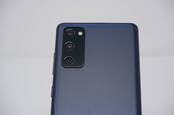 Samsung Galaxy S20 FE goes from 'nearly dead' to full in an hour, but you might not be a 'Fan' of some of the shortcuts
READ MORE
Last year's 3.5mm headphone jack is not listed on the specs sheets we've seen, but the devices can connect to two Bluetooth headsets at once and the speakers have been tweaked to be louder and produce a better stereo field.
A charger and cable are included, because Samsung feels that these devices may well be customers' first smartphones, or first devices using USB-C.
The devices ship with 128GB or 256GB of storage, and can also handle Micro-SD cards up to a terabyte. All three models can run two SIM cards and support 25W fast charging. Facial or fingerprint biometrics unlock the device.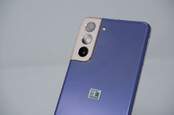 Samsung Galaxy S21: Lots of little downgrades, but this phone is more than the sum of its parts
READ MORE
All models are rated IP67, so can survive fresh water immersion.
The A32 offers a 6.4-inch screen and 64MP main camera. The A32 5G grows to a 6.5-inch screen, but offers a mere 48MP main camera. Both models pack 5,000 mAh batteries, 128GB of storage and offer 15W charging.
Samsung pitched both devices to The Register as offering all-day-Instagram action, with photos beautified by onboard AI.
We've been offered Australian pricing for the new devices, and applied today's exchange rates from xe.om to indicate prices in US dollars and pounds sterling.
| Model | Storage (GB) | RAM (GB) | RRP $AU | $US | £UK |
| --- | --- | --- | --- | --- | --- |
| Galaxy A32 | 128 | 6 | $499 | $386 | £277 |
| Galaxy A32 5G | 128 | 4 | $499 | $386 | £277 |
| Galaxy A52 | 128 | 8 | $599 | $463 | £333 |
| Galaxy A52 5G | 128 | 6 | $649 | $502 | £361 |
| Galaxy A52 5G | 256 | 8 | $749 | $580 | £416 |
| Galaxy A72 | 256 | 8 | $749 | $580 | £416 |
The Register can say with some certainty that the devices won't top sales charts for Q1 2021 – because there's only two weeks of it left!
But based on the very shiny demos Samsung offered, the A52 and A72 look very capable. Their specs certainly suggest they're alternatives to Samsung's premium devices because they're big, fast-ish, include NFC so they can handle mobile payments, and include Samsung's Knox secure enclaves technology.
On the downside, the A72 is a mere AU$100 less than the GalaxyS20 FE, the late 2020 update to the Galaxy S20. However the A72 does have an extra camera, and a more capable main shooter. ®