This article is more than 1 year old
Following Supreme Court ruling, Uber UK recognizes drivers as workers, offers min wage, holiday pay, pension
Nice but still not good enough, says union
After years of aggressively fighting any efforts to force it to recognize its drivers as employees, on Tuesday Uber performed a U-turn on the streets of Britain and recognized all of its drivers as working for the company rather than serving as freelancers.
The change is the result of a court ruling last month that entitled workers to seek more pay and benefits but resisted classifying them as employees. That decision by the UK's Supreme Court, making it definitive, was unanimous, and actively rejected Uber's argument that it was just a technology platform that connected suppliers with customers. The court was having none of that, and decided that since Uber set the prices, connected drivers and passengers, and decided which route the drivers should follow, it was more employer than platform.
The ride-hailing app maker initially downplayed the legal loss, and argued the decision only directly benefited the handful of drivers in that specific case. However, experts pointed out that every other Uber driver in the UK could cite the ruling at a tribunal to demand what was owed to them, and reality has since dawned on Uber.
As such, Uber has complied with the court's wishes, and said that its 70,000 UK drivers will henceforth be "workers" entitled to a minimum wage – £8.72 ($12.11) an hour – plus vacation pay, and a pension plan. The details are laid out in this filing [PDF] to America's financial watchdog.
The app biz has thus acknowledged that the people who make its British business a business at all are not just casual workers but people for whom driving for the company is their main job and source of income. That's more a point of a principle than anything else since we imagine most of Uber UK's drivers are earning more than minimum wage anyway.
It's not clear whether this change will be expanded to Uber drivers in other countries, in large part because the UK is unusual in that it has a category of worker that is neither employee nor freelance; something that most countries don't. Broadly, in the UK, a "worker" gets several key employee benefits, such as the minimum wage, but is not entitled to things like maternity/paternity leave or severance pay.
Stateside
In the US, where Uber is headquartered and represents its largest market, the battle over drivers' status is ongoing: California's legislature passed a law (AB5) that came into effect in January last year that forced gig-economy companies like Uber to recognize their drivers as employees, but that measure was then overridden in November by a ballot measure (developed and supported by Uber) in which California voters exempted app-based drivers from AB5 and allowed Uber et al to continue to treat their drivers as independent contractors rather than employees.
Meanwhile, in Europe, which is Uber's second-largest market, lawmakers are considering new labor laws to cover the same gig-economy companies that would force them to give their workers greater rights.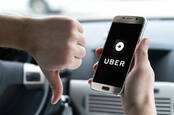 UK Supreme Court declares Uber drivers are workers, not self-employed: Ride biz's legal battle ends in a crash
READ MORE
The corporation has good reason to be worried. Just like food-delivery app companies, its entire existence depends on acting as a man-in-the-middle when the internet has proven incredibly effective at removing middlemen across all industries. To make it work without forcing a massive surcharge on customers, Uber is dependent on keeping labor costs as low as possible.
To that end, keeping drivers as independent contractors and so opting-out of employee protections saves the company a huge amount of money. It's not clear how Uber's business model could shift to accommodate larger costs without it losing a massive amount of market share to traditional taxi companies.
And then there's the fact that despite its massive reach and huge market valuation, Uber has never made a profit – not even close. Last year in fact it made a $6.8bn loss – that's bn for billion.
Bloody cabbies
You'd think the drivers would be elated, but you know cab drivers… "While we welcome Uber's decision to finally commit to paying minimum wage, holiday pay and pensions," reads a statement by the App Drivers and Couriers Union, "we observe that they have arrived to the table with this offer a day late and a dollar short, literally."
The missive – written by James Farrar and Yaseen Aslam, the lead claimants in the case that sparked all of this – argued that Uber, when calculating drivers' benefits, ignores the time in between fares, and it should instead take into account whole shifts:
The Supreme Court ruled that drivers are to be recognized as workers with entitlements to the minimum wage and holiday pay to accrue on working time from log on to log off whereas Uber is committing only to these entitlements to accrue from time of trip acceptance to drop off. This means that Uber drivers will be still short-changed to the tune of 40-50 per cent.
It went on: "Also, it is not acceptable for Uber to unilaterally decide the driver expense base in calculating minimum wage. This must be subject to collective agreement. While Uber undoubtedly has made progress here, we cannot accept anything less than full compliance with legal minimums.
"We would also expect to see Uber make progress towards trade union recognition, a fair dismissals appeals process and a data access agreement."
Yeah, great, oh look: we're at our destination; time to hop out. ®