A former missile software engineer who boasted about leaking critical defence secrets to hostile foreign powers and refused to give police his VeraCrypt key has had his prison sentence nearly doubled by the UK Court of Appeal.
Simon Finch, formerly of Swansea and now of one of Her Majesty's prisons, will spend a minimum of three years in the slammer instead of the 18 months he would have spent behind bars.*
Court of Appeal judges Lord Justice Fulford, Mrs Justice McGowan and Mr Justice Bourne increased Finch's sentence from 4½ years to 8 years, saying the original sentence from the Old Bailey was too lenient.
Finch, formerly a BAE Systems software engineer who worked on top secret missile systems, was jailed last year after changing his pleas at the last minute. He was charged with breaching the Official Secrets Acts and the Investigatory Powers Act.
After Merseyside Police had allegedly failed to investigate what Finch described as a homophobic attack against him, the BAE Systems employee armed himself with a knife and hammer the next time he went out in public. For his pains he was arrested and convicted – which meant the loss of his Developed Vetting and the end of his career.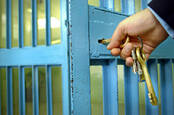 Ex-missile systems worker jailed for breaching Official Secrets Act after last-second guilty plea
READ MORE
Finch had been inducted into what the court described as a "Codeword Access Programme," meaning details of the missile he was working on were distributed only on a need-to-know basis to vetted individuals. The missile was not identified in open court, though judges said it is in frontline use by the Armed Forces today.
Infuriated by police indifference to what he saw as his plight, Finch installed VeraCrypt on his personal laptop before going on a tour of Europe, visiting Paris, Bordeaux and Frankfurt in late 2018. While abroad he wrote down all the details of the missile system that he could remember and emailed eight people with three detailed documents about it. He also claimed to have posted hard copies to foreign embassies while abroad, though he later withdrew that claim when he changed his pleas at the Old Bailey last year.
When police caught up with him, Finch refused to give them the VeraCrypt key for his laptop.
Judges at the Court of Appeal today ruled that Finch's original sentence was "unduly lenient," following an application by the British government to increase it. They said Finch's "failure to cooperate" over the VeraCrypt keys "was calculated, and that the keys had been withheld for cynical reasons. The devices continue to hold classified information as well as opportunity for investigation and mitigation."
Police investigators were, so the court was told, unable to defeat VeraCrypt, with the judges remarking: "It is noted that the defendant has expressed satisfaction or happiness at the course he has followed."
The sentence for refusing to hand over his password was increased to 2½ years, served concurrently with the two Official Secrets Act sentences; one count attracting 6½ years and the other 18 months, both served consecutively with judges adding: "There will be credit for time served on remand."
The full judgment can be read here as a 27 page PDF. ®
Bootnote
* Sentences passed by judges are never applied in full. Understanding how much of a "prison" sentence actually means "going to the big house" requires some involved arithmetic.
For UK prison sentences between 12 months and four years, release is automatic at the halfway mark. Sentences longer than four years can still be halved but this is subject to the Parole Board's discretion. On top of these reductions, prison governors can discount sentences by up to a third for good behaviour. Thus a four year sentence could result in a criminal spending about 15-16 months inside.
Life sentences for serious crimes have a "tariff" which is the real time in prison for the criminal. "Life" does not mean life in prison. Officials explain this shift in the meaning of words by saying the probation service keeps an eye on criminals who are released from prison.
"Offenders always complete their full sentence but usually half the time is spent in prison and the rest is spent on licence. While on licence, an offender can be sent back to prison if they break its terms," according to the Sentencing Council, the quango that sets prison sentences in the UK.