This article is more than 1 year old
Windows 10 Insider build fixes the fix it sent out to fix the fix that broke printing? Afraid not, but here's a new Notepad icon
Terminal and Power Automate elevated to inbox status, Auto HDR for gamers
Microsoft has thrown its long-suffering unpaid testers a bone in the form of a fresh Windows 10 insider build with tweaks to Virtual Desktops, a preview of Auto HDR and changes to what comes in the box.
Most notable in the Dev Channel build 21337 is yet more prodding of the veteran Notepad app, a stalwart from the early days of Windows. Rather than focus on, oh, maybe fixing the fix it sent out to fix the fix that broke printing, the Windows giant has instead given Notepad a fresh fluent icon and added it to the otherwise moribund Microsoft Store.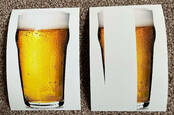 Partial beer print horror as Microsoft's printer bug fix, er, doesn't
READ MORE
The app will remain a part of Windows for the time being, but its presence in the Store will make it easier for the company to further fiddle with the poor thing.
Also currently in the Store and now to feature as part of the inbox experience is Windows Terminal, which is a considerable improvement over the shells and command line tools of old. Power Automate Desktop has also put in an appearance, making good on Microsoft's promise to make the automation tool available for free.
As well as a tinkering with the layout of File Explorer, Microsoft also added some additional control and customisation options to the Windows 10 Virtual Desktop functionality and a preview of Auto HDR. The latter is aimed squarely at gamers and requires a HDR-capable PC to up the visual quality on more than a thousand DirectX 11 and 12 games.
Blessedly missing this time around for many was the News and Interests "experience" forced upon users. The function is Microsoft's latest in a long line of attempts to catch the user's eye with tempting weather forecasts or alluring headlines and, in the previous Dev Channel build, the company announced that it had "landed on what we believe to be the best experience for customers" and was, er, resetting the rollout.
"Don't worry," it said brightly, "we hope to make news and interests available to everyone in the Dev Channel soon!"
We can't wait. Maybe they can fix our printer too. ®