This article is more than 1 year old
Partial beer print horror as Microsoft's printer bug fix, er, doesn't
Bugs, patchually: Just when you thought it was safe to print from Windows
Updated Microsoft continues to demonstrate its impressive commitment to Windows quality by admitting the patch it released to patch the patch that broke printing was, er, itself broken.
As a reminder, a fresh security update dropped from Microsoft's Windows Update orifice last week that left some Windows 10 users unable to print. Worse, a screen of deathly blue was flashed when a printing operation was attempted – a step up from the error message seen after last year's mishap.
With impressive speed, Microsoft hurried out an out-of-band optional patch to deal with the affected Windows 10 versions: KB5001567 for Windows 10 2004 and 20H2; KB5001566 for Windows 10 1909; KB5001568 for 1809 and KB5001565 for 1803.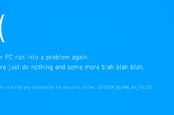 Another Windows 10 patch that breaks printers ups ante to full-on Blue Screen of Death
READ MORE
Sadly, with impressive speed did not come impressive quality. A glance at the support page for KB5001567 indicates that all is not well in the printing department for Windows 10 users.
"You might get unexpected results when printing from some apps," admitted Microsoft. Not a blue screen of death, but formatting problems, blank labels "from some apps or to some printers" and "elements of the document might print as solid black/color boxes or might be missing, including barcodes, QR codes, and graphics elements, such as logos."
So, while your computer might not freeze when printing, what comes out of the printer for affected users might still be absolute garbage.
The Register reader who originally reported the problem to us confirmed the issue and told us that as well as BSODing systems, some drivers were leaving blocks of whitespace.
"The BSOD seems fixed," he said, "but white space is still there. So KB5001567 only half fixes the problem."
One might almost call it "half-arsed", perhaps?
"It also seems to affect how you print," he added, "so printing from some applications is fine whereas right-clicking the same JPG and choosing 'Print...' fails..."
The concerned Citizen illustrated the problem below. On the left, the image was printed by an app. On the right, it was done via right-click and, well, you can see the carnage for yourself.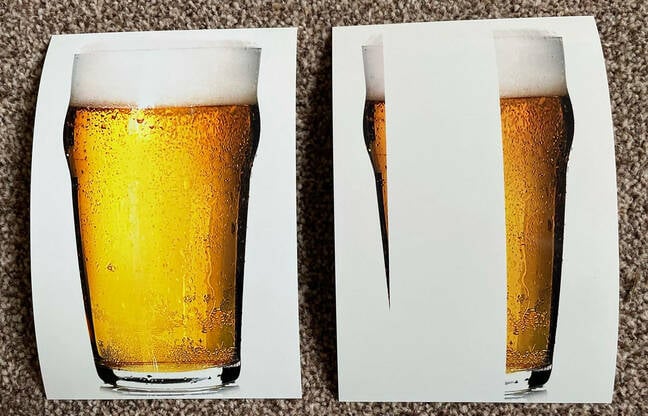 Click to enlarge
The horror.
Similar complaints have been made by other users. (About printing, rather than missing beer.)
The Register has contacted Microsoft for an explanation of the latest set of problems, and will update should the company respond.
In the meantime, please join us for a reworking of an old favourite:
"There was a tech company that put out a fix,
I don't why... they put out the fix,
Perhaps it stic..." - or maybe not. ®

Updated at 10:58 UTC on 19 March 2021 to add:
In the small hours of this morning, Microsoft tried to fix the problems once again. KB5001649 was issued for Windows 2004 and 20H2, KB5001648 for 1909, KB5001638 for 1809 and so on.
Our reader who reported the issue told us that getting this latest update installed was proving problematic through Windows Update, and he was forced to resort to the Microsoft Update Catalog. "Half a gig for an 'optional quality update' as MS calls it," he grumbled. "But it seems to fix the problem."
It's Friday, so have an updated beer to celebrate.