This article is more than 1 year old
Facebook, Instagram, WhatsApp pause usual data collection with an outage
Social ad biz is working to restore service, for better or worse
Updated On Friday, shortly after 1700 UTC, users of Facebook and its WhatApp and Instagram subsidiaries began reporting difficulties connecting to the respective services.
According to Downdetector.com, outage reports jumped from a typical baseline of around a dozen or two to over 3,500 for Facebook, over 26,000 for WhatsApp, and over 124,000 for Instagram around this time period.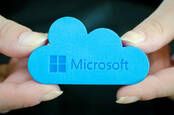 Microsoft customers locked out of Teams, Office, Xbox, Dynamics – and Azure Active Directory breakdown blamed
READ MORE
Facebook did not immediately respond to a request for comment, though the antisocial network's Facebook Gaming Twitter account acknowledged the issue.
"There are a number of issues currently affecting Facebook products, including gaming streams," the biz said. "Multiple teams are working on it, and we'll update you when we can."
The situation appears already to be improving. The Instagram website, which briefly returned a server error message, now loads properly.
The connectivity problems at Facebook and its other properties coincide with what appear to be similar slowdowns affecting AT&T, T-Mobile, and Verizon, all of which show elevated reports of trouble on Downdetector.com during the same time period.
Below is a map of breakdowns right now collected by Cisco's Thousand Eyes: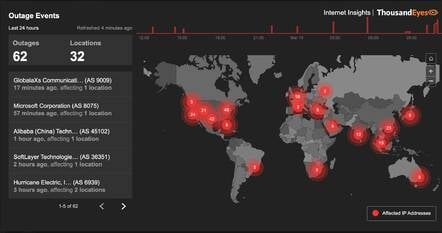 Click to enlarge
It may be that there's an underlying internet networking problem. Thousand Eyes highlights a significant spike in activity over the past hour or two. ®
Updated to add at 1940 UTC
"Earlier today, a technical issue caused people to have trouble accessing some Facebook services," a Facebook spokesperson said in an email to The Register. "We resolved this issue for everyone, and we apologize for any inconvenience."
The spokesperson declined to explain what happened: "We don't have any additional details to share," they said.