Boldly going where Elon Musk will probably go before: NASA successfully tests SLS Moon rocket core stage
Space agency now that much closer to
the Moon

tossing multi-million dollar Space Shuttle engines in sea
NASA's Space Launch System (SLS) core stage has finally completed its test, taking the Artemis program one step closer to the Moon and relieving nervous engineers across Stennis Space Center and beyond.
The second hot-fire test of NASA's largest ever rocket element went off without a hitch for 8 minutes and 19 seconds after its first attempt was cut short at just over a minute.
STATIC FIRE! Artemis-1 SLS Core Stage fires up for a second time.

➡️https://t.co/mTak8TRRpM pic.twitter.com/fjDlNIDEyy

— Chris B - NSF (@NASASpaceflight) March 18, 2021
The test is the culmination of the eight-part Green Run and provides data to determine launch-worthiness of the core stage. While four minutes of firing is required for the test, eight minutes are preferred to simulate a launch. Any data collected after eight minutes is considered a bonus.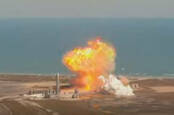 Musk see: Watch SpaceX's latest Starship rocket explode while trying to touch down
READ MORE
NASA described the test as "a critical milestone ahead of the agency's Artemis I mission, which will send an uncrewed Orion spacecraft on a test flight around the Moon and back to Earth, paving the way for future Artemis missions with astronauts."
The SLS is NASA's most powerful rocket to date and generated 1.6 million pounds of thrust in seven seconds. The propellent tanks hold more than 733,000 gallons (2.77 million litres) of liquid hydrogen and liquid oxygen to fuel the four RS-25 engines. 114 tanker trucks and six propellent barges provided liquid propellent through the test stand and more than 330,000 gallons (1.249 million litres) of water per minute were delivered to the stand's flame deflector.
SLS Program Manager John Honeycutt emotionally described the vibration and power as giving him chills.
John Honeycutt proud of the SLS team to work through the challenges and get this really good test.

Data so far looks nominal.

Core Stage got an A+ today. pic.twitter.com/wYMQWaDBba

— Chris B - NSF (@NASASpaceflight) March 18, 2021
Now that the test has overcome all odds, including narrowly escaping inclement weather, NASA estimates it will take one month to refurbish the core stage before shipping it to Florida's Kennedy Space Center. Once in Florida, it will join the other parts of the rocket and NASA's Orion spacecraft. ®