Staff and students at Victoria University of Wellington learn the most important lesson of all: Keep your files backed up
At last, after a year, my PhD is finally complee- bzzt!
Think you're having a bad day? Spare a thought for the IT team at New Zealand's Victoria University of Wellington who accidentally managed to wipe files stored on desktop computers last week.
Taking us back to the glory days of Microsoft's file-munching Windows 10 October 2018 Update fiasco, staff and students (with a staff account) found files had been wiped after a bit of overnight love and care by the resident techies.
Reported in the Critic, the student magazine of the Otago University Students' Association, staff and post-grad students alike were presented with an email saying IT were "still working on a technical solution to recovering the data that was deleted over the weekend."
Users were also advised to show the email to others to avoid more logins that could end up making the problem worse.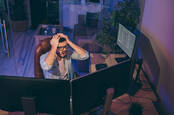 Dratted 'housekeeping', eh? 150k+ records deleted off UK's Police National Computer database
READ MORE
Those insistent on stashing everything on the desktop were the worst affected by the botched operation to clear disk space. The plan had been to clear old profiles, but it quickly became apparent that the deletions had gone much further.
The university confirmed to The Register that it had indeed "experienced an unexpected issue during routine and scheduled maintenance work last weekend, which affected access to some files for a significant number of staff."
It said that the affected files were the ones that had been stored on the desktop. Network drives and files stashed in OneDrive were not hit.
Students running with a staff account (using the staff domain and on a university computer) had also been affected. The university was, however, at pains to reassure jumpy Kiwis that "the majority of students are not affected by the issue."
The university's Digital Solutions team has been working with those affected to recover files, some of which represent months (or longer) of work, but warned: "There are, however, some affected staff and students who have not been able to recover access to files."
"The University apologies [sic] for the inconvenience caused and is investigating the issue to ensure it cannot happen again. There has been regularl [sic] communication to affected staff and students."
Er, right.
Still, students can take some solace that three important learning experiences have been dispensed:
Keep your files backed up
For goodness' sake, tidy up that desktop

See point 1.
®