This article is more than 1 year old
Microsoft sets the date for the Great Return to the Redmond offices (kind of)
Plus: Report shows soft opening next cannot come soon enough for some
Microsoft has firmed up plans to reopen its facilities and set 29 March as the date when employees might once again set foot in its Redmond-based HQ.
The Windows giant instituted a mandatory work-from-home policy worldwide last year, requiring all employees to keep out of the office except those deemed "essential on-site workers." As the year wore on, Microsoft reopened sites in 21 countries in hybrid form, "providing limited additional services on campus for those who choose to return, while supporting those who need to work remotely or feel more comfortable doing so."
Now is the turn of the US to fiddle with the knob on Microsoft's six stage COVID-19 hybrid workplace dial.
The dial's settings are geared up to local government restrictions and start from 1 (closed), then go through 2 (mandatory home working), 3 ("strongly encouraged" home working), 4 (a soft open), 5 (open with restrictions) and 6 (fully open.)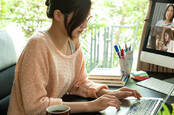 Salesforce: Forget the ping-pong and snacks, the 9-to-5 working day is just so 2019, it's over and done with
READ MORE
Microsoft said it does not wish employees to feel they have to return to the office before level 6 is reached, and today's turning of the dial for some of its US sites moves the needle from 3 to 4. As for that dreamy level 6? It would be reached when COVID-19 "presents itself more like an endemic virus such as the seasonal flu."
Last year the company unveiled global guidance that made homeworking standard, albeit with provisos including no more than 50 per cent of hours at home and the agreement of a boss.
Unhappy at home
Today's announcement came as Microsoft published a report regarding the newly hybrid work attitudes of 30,000 people over 31 countries.
It made for grim reading. While 70 per cent of workers wanted flexible work options to continue, 65 per cent craved a bit of in-person time. Just under half of workers lacked essential office supplies at home and said their employer failed to help them with remote work expenses. One in 10 didn't have a decent internet connection.
The report paints a stark divide between business leaders, 61 per cent of whom said they were having a whale of time (or "thriving") while at the other end of the scale the majority of new employees and those starting out in their careers defined themselves as "surviving/struggling."
Those leaders should take note – almost half (41 per cent) of the global workforce "is likely to consider" a change of employer in the coming year, at least partially due to a re-evaluation of life brought on by the events of the last 12 months.
Other tech organisations aren't expecting their workforce to return to their offices en mass, even after legal lockdowns are lifted. Fujitsu, for example, said it would close half of its sites in Japan. And Dell said it anticipates 60 per cent of its 165,000 staff will keep mixing up their work environments ®