Remember Apple's disastrous butterfly keyboards? These lawsuits against the iGiant just formed a super class action
Ittt i so hrd to tpe onnnnnnnnnnn th bloddy thng
Lawsuits alleging Apple knowingly sold laptops with its defective butterfly keyboard mechanism will go ahead as a single class action.
In an uncharacteristic move for the iGiant, it favored form over function when it introduced the keyboard design in 2015 for its MacBook line. The keys are shallower and flatter than usual, and once a tiny bit of debris falls inside, it is difficult to press them. They often get stuck; the same letter is repeatedly typed or the keystrokes fail to register at all. Sometimes the key tops just fall off as well.
Apple has since abandoned its butterfly design, and its laptops launched after 2019 should be easier to type on.
Thousands signed an online petition to get Apple to recall the crappy lappies, and the diabolical design sparked a number of lawsuits in America. Apple eventually offered free repairs and replacements.
Now Judge Edward Davila, sitting in a federal district court in San Jose, has approved a merger of all the legal challenges into one giant class-action sueball against Cupertino on the issue of the bad butterfly design.
"Plaintiffs bring this proposed class action against Apple on behalf of purchasers of MacBook laptops equipped with allegedly defective keyboards, known as "butterfly" keyboards," Judge Davila noted in his judgment [PDF]. "The court grants Plaintiffs' Class Certification Motion." In other words, the lawsuit filed on behalf of nine plaintiffs from various US states will be combined, and the case will also be opened up to all affected consumers in those states.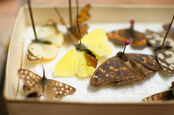 Forever mothballed: In memoriam Apple Butterfly Keyboard (2015-2020)
READ MORE
"Specifically, plaintiffs request that this court certify a proposed class consisting of 'all persons who purchased, other than for resale, within California, New York, Florida, Illinois, New Jersey, Washington, or Michigan, an Apple MacBook from any of the model years 2015-2017, an Apple MacBook Pro from any of the model years 2016-2019 (excluding the 16 [inch] MacBook Pro released in November 2019), or an Apple MacBook Air from any of the model years 2018-2019' (the 'Class')," the judge continued.
Girard Sharp, a law firm in San Francisco representing the plaintiffs, wants [PDF] Apple to "award all actual, general, special, incidental, statutory, punitive, and consequential damages and restitution to which plaintiffs and class members are entitled" for foisting the keyboard design upon them. Fans who bought laptops with the borked butterfly keyboard can fill out this questionnaire to help the legal eagles build their case against the tech giant.
The team seeks to prove there is a common defect affecting the butterfly keyboards that causes them to fail, and that Apple knowingly continued to sell its laptops with the shoddy mechanism. "We are pleased with the court's ruling and look forward to continuing to advocate for our clients and the class in this matter," Simon Grille, a lawyer at Girard Sharp, told us.
Apple was not immediately available for comment. ®