This article is more than 1 year old
Proof that Surface devices are not a niche product obsessed over by Microsoft fans: A patent lawsuit from Caltech
Well, you wanted to be just like Apple, right?
The California Institute of Technology (Caltech) has followed up its attempts to double a billion-dollar award from Apple and Broadcom for patent infringement by turning its sights on Microsoft.
Keeping itself busy during the inevitable appeals process, Caltech on Friday filed amended complaints against HP Inc [PDF] and Dell [PDF], and a fresh complaint against Microsoft [PDF] over infringements of the same patents Apple and Broadcom were found to have ripped off - plus another two to boot.
In the case of Microsoft, the products affected include pretty much every Surface device and Xbox that makes use of Wi-Fi incorporating the encoding or decoding technology.
Caltech patent litigation against Dell and HP Inc had been already rumbling along, but has been amended to take into account the patents at the heart of the Microsoft case.
The patents involved are U.S. Patent No.7,116,710 ("710 patent"), U.S. Patent No. 7,421,032 ("032 patent"), U.S. Patent No.7,716,552 ("552 patent"), U.S. Patent No. 7,916,781 ("781 patent"), and U.S. Patent No. 8,284,833 ("833 patent").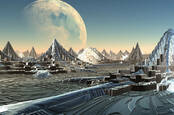 Memo to scientists. Looking for intelligent life? Have you tried checking for worlds with a lot of industrial pollution?
READ MORE
A jury had already found that Wi-Fi products by Apple and Broadcom had infringed the 710, 032, and 781 patents. Caltech attempted to ward off an appeal against the verdict with yet another Friday filing at a California federal court urging the rejection of arguments made by iPhone maker and chip maker alike.
"The patents," explained Caltech in its brief [PDF], "arose from groundbreaking research by Caltech scientists who pioneered new technology that today permits transmission of data more accurately over Wi-Fi and other channels.
"These improvements allow for faster speeds, increased range, reduced computational load, reduced chip temperature, reduced power consumption, extended battery life, reduced chip size, and improved reliability."
Caltech has added infringement of the 552 and 833 patents to its case against Microsoft and "seeks a reasonable royalty from Microsoft as compensation."
The patents themselves are concerned with the encoding, decoding, and error correction of Wi-Fi data. The original case was brought back in 2016, with Broadcom named as the first defendant. Apple soon followed thanks to its use of Broadcom's silicon.
Caltech is seeking a trial by jury and, as well the inevitable claim for damages, also wants the cost of its attorneys' fees covered.
The complaint was filed at the United States District Court in the Western District of Texas. ®