Caesar Sengupta, Google's vice president and general manager for Payments and the Next Billion Users initiative, will leave the company.
"I remain very positive about Google's future but it's time for me to see if I can ride without training wheels," said Sengupta on LinkedIn, adding that it was time now for him "to venture out and start on a new mission."
"I feel like I went to product and team building school at Google," said Singapore-based Sengupta. He announced his last day will be April 30th
Sengupta became VP of Google's Next Billion Users initiative in 2015. The scheme aims to recruit new users, principally in developing nations. Google styles the quest as a mission to civilize – Sengupta's farewell email referred to those "who need our magic the most" – but it stands to gain plenty by making itself the center of new users' digital worlds.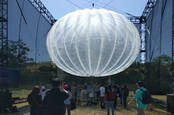 Google's Alphabet sticks a pin in its Loon internet broadband service
READ MORE
According to Sengupta, over 1.5 billion people started using the internet on his watch between 2015 and 2020, and another billion more will log on by 2025.
"More and more it's their needs and ideas that are shaping the future of technology, in areas from financial inclusion to language translation," Sengupta said in an October 2020 blog post.
The soon-to-be-former Googler said he hasn't decided what to do next, aside from some more of his lockdown hobby: cycling [on very flat routes - Ed] .
First 100Km bike ride!!!

I got into road biking during the lockdown and had set this arbitrary goal. In the end the challenge turned out to be more mental then physical. With this done, now to get faster. Thanks so much Mike, Bikram and Scott for the advice and encouragement. pic.twitter.com/IbPrQ18ulg

— Caesar Sengupta (@caesars) February 27, 2021
With experience in fintech and recruitment enablement of new users, both at scale, Sengupta will likely have plenty of options once he unbolts his "training wheels". ®