This article is more than 1 year old
Report: Microsoft is thinking about splashing $10bn on Discord to slot it next to Skype, Mixer...
Chat-room super-app aimed at gamers now used by 140m people a month
Microsoft is apparently mulling snapping up Discord, an IRC-a-like-for-the-2020s popular with gamers, techies, and others, for a whopping $10bn.
Discord, founded in 2015 and based in San Francisco, allows users to set up public and private chat servers, where people can talk to each other using using text, voice, and video, and exchange direct messages. Servers are encouraged to set up topic-focused channels.
The app quickly took off with e-sports teams and fans, and grew as gamers set up online communities on the platform. It now has more than about 140 million active monthly users including not just video game players and spectators but also programmers, technology enthusiasts, and people with non-tech interests.
Now, we're told, the communications startup is considering its options for the future. Multiple companies have expressed an interest in gobbling it up, according to VentureBeat. One of those corps is Microsoft, Bloomberg first reported, and Redmond is said to be willing to splash $10bn on the upstart. A potential deal, however, is still up in the air as some sources close to the matter believe Discord may want to go public instead.
"We don't comment on rumors or speculation," a spokesperson for Discord told The Register. A spokesperson from Redmond also declined to comment, too.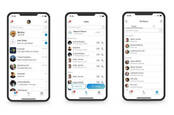 Microsoft takes a pruning axe to Skype's forest of features
READ MORE
Discord may seem a sensible acquisition target for Microsoft given how much it has been investing in its Xbox console family and subscription-based gaming service Xbox Live, which has since been rebranded to "Xbox Network."
Being able to communicate with fellow gamers to coordinate and strategize is a bonus and elevates the social aspect of gaming. Earlier this month, Redmond's $7.5bn takeover for games publisher Zenimax was approved. Microsoft is betting that owning top game titles will snare new subscribers; it's possible that snapping up Discord could further boost attraction. Microsoft also owns GitHub and has perhaps figured out that developers like to chat on Discord.
But let's not forget Microsoft's previous attempts at incorporating similar chat services. In 2016, it acquired Mixer, a video game live streaming platform that was previously known as Beam. Mixer was folded into Xbox One, struggled to grow its user base as competitors like Twitch skyrocketed. Last year, Microsoft shut down the service altogether.
Microsoft has also arguably neglected its video chat app Skype, too, which it bought in 2011 for $8.5bn. The Windows giant hasn't completely given up on Skype, though for years it stopped talking about how many millions of people used Skype a month, suggesting growth had stalled or stopped.
Skype was blown away by Zoom last year as the coronanvirus pandemic took hold. Skype's business offering is also being replaced with Microsoft Teams. One wonders where Discord will fit in this strategy. ®