This article is more than 1 year old
Sure, Dave might seem like he's avidly listening to this morning's meeting, but he's actually doing a yoga routine
Meanwhile, Emma is playing video games, and Daniel... well, Daniel is drunk already
Transcription service Otter.ai has unleashed another remote-working survey. Today's report revealed that not only are workers not bothering to dispense with nightwear, a minority are content to virtually meet with just their undercrackers on.
Following Microsoft's announcement of tentative office reopenings, the YouGov/Otter.ai survey of more than 2,000 US and UK employees found 39 per cent were still working from home full time and fully expected to continue to do so "indefinitely."
A little less reckoned that the office would feature in their future in one form or another while just under a quarter were back with colleagues for at least some of the time. A fifth of workers, however, did not want to return to the office. Ever.
Of those who wanted to continue to dodge office life, 51 per cent cited the commute as a factor while 21 per cent were honest and admitted that a lie-in was welcome. Just over 10 per cent reckoned their diets at home had improved (something with which this hack and his pandemic paunch might take issue) and 15 per cent preferred non-formal clothes.
And we're back to taking meetings in a dressing gown and no trousers.
More seriously, almost half (42 per cent) of respondents stated they had suffered from "Zoom fatigue" as video meetings ramped up. Of those, 38 per cent reckoned things had improved as they adapted to the new way of working while a worrying 20 per cent thought things had gotten worse.
Effects noted by those suffering videoconferencing fatigue included a drop in productivity, out-of-control work hours, and problems sleeping.
Meetings have been the bane for many an organisation over the years, and the solutions predate the pandemic: Just over half of respondents reckoned an agenda would be handy, a third thought shorter meetings made sense, and 20 per cent asked that attendees perhaps paid attention to matters at hand rather than tackling their inboxes.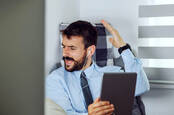 BOFH: Time for the MMOCC. You know, the Massively Moronic Online Christmas Call
READ MORE
That said, virtual meetings had allowed some new and exciting habits to creep in. As well as those garbed in their PJs or lacking in the trouser department, 15 per cent played computer games, 12 per cent claimed to exercise (yeah, right), and 9 per cent said they had "[d]rank alcohol or been drunk at an inappropriate time."
We're wondering exactly when an appropriate time would be. Just so we can note it in our calendars. No other reason.
Some 35 per cent adopted a pious tone, and claimed to have done none of those things.
Otter.ai CEO and founder Sam Liang reckoned that Zoom fatigue was a real thing and the recommendation that meetings require a bit of restructuring makes sense: "Perhaps making a rule that all employees should wear pants* on virtual meetings is another good one to add to the list."
We're assuming Liang means trousers. Things haven't got that bad yet, have they? ®
* In the UK vernacular, "pants" equates to "underwear", while for US English speakers the word refers to "trousers".