This article is more than 1 year old
SK Hynix boss predicts CPUs and RAM will merge, chipmakers will hold hands to make it happen
Seok-Hee Lee tips Compute Express Link memory to become the next big thing
The CEO of SK Hynix, the world's second-largest memory manufacturer behind Samsung, has tipped the merger of RAM and CPUs, and the rise of the Compute Express Link standard.
Delivering the keynote at the Institute of Electrical and Electronics Engineers' International Reliability Physics Symposium (IRPS), CEO Seok-Hee Lee delivered his vision for the future of memory and the industries that rely on it.
"There will be a convergence of memory and logic," he predicted. "The concept is to add a few computing functions of CPU to DRAM."
"As the speed was increased in high-bandwidth memory by increasing the number of channels between the CPU and the memory, the speed will increase further in Processing Near Memory (PNM), where both the CPU and the memory exist within a single module."
"The speed will further increase in Processing In Memory (PIM), where the CPU and the memory exists within a single package. Ultimately, speed will increase further in Computing in Memory(CIM), where the CPU and the memory is integrated within in a single die, to deliver high performance computing system."
SK Hynix does not make CPUs and Lee didn't even hint the company would do so.
So how can he predict that memory and compute will merge? Lee proposed cross-industry collaboration.
"In the era of fierce competition for miniaturization, the matters of technology completion and productivity were dealt with through vertical relations with suppliers," he opined. "Now, however, is the time when various partners building the semiconductor industry ecosystem must form a cooperative partnership. Only by establishing a strategic partnership for Open Innovation based on collaboration and sharing with customers, suppliers, academia and government, we can shape a new era, which pursues both economic and social value."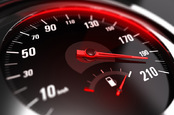 SK Hynix starts churning out 18GB LPDDR5 mobile memory chips – with ASUS first in line
READ MORE
SK Hynix's canned statement even defined "open innovation" as "a paradigm that assumes that firms can and should use external ideas and technology required and share the internal resources outside the firm to create a new product or a service."
Which sounds like a world in which a future server could have "Intel and SK Hynix Inside". And also suggests that Apple is onto something with its M1 design that puts CPU, memory, and much more on the same die.
Lee was also bullish about the prospects of the Compute Express Link standard, a cross-industry effort to move data quickly and efficiently between CPUs and accelerators such as GPUs and smart network interface cards.
"CXL memory is being prepared as a solution that not only expands bandwidth and capacity but also realizes the value of a persistent memory," Lee said in his speech. "I believe this will become a solution to narrow the gap between the memory performance and the industry requirements," he said.
Much of Lee's speech was devoted to necessary breakthroughs in chipmaking tech that he said SK Hynix would deliver in order to build faster, higher-capacity memory.
A sample: "We are improving materials and design structures for technical evolution in each field of DRAM and NAND, and solving the reliability problems step by step. If the platform is innovated successfully based on this, it is possible to achieve the DRAM process below 10 nanometers (nm) and stack over 600 layers of NAND in the future."
As SK Hynix's current best effort is 176-layer NAND, storage density looks set to improve markedly.
Lee's speech can be viewed below. ®