This article is more than 1 year old
Whatever 'normal' is, global CEOs don't expect to see it return before 2022 and are ploughing funds into security
It's a grim time to be in the commercial real-estate business
KPMG's latest survey of global CEOs shows widespread belief that the remote-working trend will linger into 2022 as the world gets to grip with COVID-19.
Almost half (45 per cent) of bosses surveyed by the accountancy biz said they don't expect a return to "normal" by next year. A further third (31 per cent) were more upbeat, expecting normality to be restored by the end of this year.
Any possible return to commuting and dismal Pret lunches will almost certainly hinge on the successful rollout of vaccines, with 90 per cent of chief execs surveyed saying they're contemplating asking employees to report in-person when they've had the jab.
But it's not a sure bet, and 34 per cent said they were afraid of vaccine hesitancy among their employees thanks to online misinformation and mixed messages about the Oxford-AstraZeneca jab.
With no definitive end to remote working, CEOs are increasingly focusing on data protection and resilience, and 52 per cent described data security measures as their primary area of investment. This is an about-face from data seen at the start of the pandemic, when three-quarters of IT professionals quizzed by Sectigo claimed they had not improved their security positioning, and 43 per cent of UK respondents said they'd been forced to cancel planned security initiatives.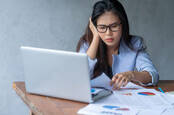 50%+ of our office seats are going remote, say majority of surveyed Register readers. Hi security, bye on-prem
READ MORE
This affirmed findings from McKinsey published last July, which said that 70 per cent of CISOs expected their budgets to shrink during 2020, with funds earmarked for redteaming and "war games" directed to other security fundamentals like VPN access. This varied sector to sector, with industries like healthcare and financial services expecting a modest uptick in spending as hospitality and retail braced for cutbacks.
Gartner's mid-2020 forecast was slightly less bearish, expecting a 2.4 per cent spending growth driven by heightened demand for cloud and application security services, albeit with some sectors (such as network security appliances and consumer security software) shrinking.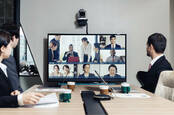 Now that's a somewhat unexpected insider threat: Zoombombings mostly blamed on rogue participants, unique solution offered
READ MORE
The pandemic has posed its own set of security challenges, from state-sponsored incursions against healthcare and pharmaceutical systems, to an increased uptick in credential-stuffing attacks against retailers and businesses in the hospitality sector. Additionally, IT bods have been forced to consider threats they perhaps hadn't previously such as the possibility an important conference call may be "zoombombed".
In a canned statement, Mary O'Connor, interim CEO at KPMG, noted the optimistic sentiment expressed by many of the CEOs surveyed, emphasising that many had focused on building resilience across business processes.
"After steering their businesses through a year dominated by the pandemic, CEOs are shifting their plans from survival to revival," she claimed. "Many have already taken strong action to transform their operating model and as they plot their path through recovery, the pressure is on to keep the positive changes made during the pandemic, while mitigating the risks it has brought."
Revival – and, for that matter, recovery – is no sure bet. With a third coronavirus wave breaking on European shores, maybe hold off on renewing that office lease and put that money in your CISO's back pocket instead. ®