This article is more than 1 year old
Vietnam pursues ten-year AI plan, aspires to crack world's top 50 for R&D by 2030
Ministries all given goals to infuse AI into operations, some in somewhat startling ways
Vietnam has set off in pursuit of a ten-year plan to become a middle power in the field of artificial intelligence.
The plan is extensive, but modest.
By 2025 the nation hopes AI is "an important technology of Viet Nam" and "among the top four countries in the ASEAN and in the group of 60 world's leading countries in research, development and application of AI".
Come 2030, the nation hopes to be in the top four in ASEAN and top 50 globally.
The plan calls for the establishment of two national AI innovation centres, ten research and training institutions, and for AI to be "widely used in public administration, online public services to help reduce processing time, human resources, reduce the waiting time and costs of the public."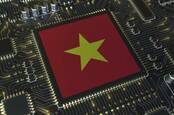 New t-shirt slogan: 'My job was outsourced to an Indian company that moved it to Vietnam'
READ MORE
Between 2025 and 2030 things get a little more ambitious, as the plan calls for development of:
Three national innovation centers for AI;
Ten renowned AI centers in the region;
Three national centers for big data storage and high-performance computing; connecting domestic data centers and high-performance computing centers to create a shared network for big data and computing for AI;
Fifty open, linked and connected data sets in different economic sectors, socio-economic fields serving the research, development and application of AI.
Vietnam also hopes to have one of the ASEAN bloc's top 20 AI research and training institutions.
The plan also sets goals for fifteen government ministries and the State Bank of Viet Nam. Some of the goals for the bank – introducing chatbots – are already available off-the-shelf. The Ministry of Education has been given more challenging goals, among them using AI to "personalize learning, improve learning efficiency with the help of teachers and virtual tutors to support students' awareness."
The Department of Defence has been told to pursue "intelligentization and modernization of equipment and weapons", while the Ministry for Industry and Trade has been told to work on "automated in-store payments and delivery completion."
Legal frameworks for AI will also be drawn up, and the plan calls for construction of shared cloud and fog computing systems to help government agencies work on AI.
Signoff of the plan comes after January's five-yearly Party Congress. While that event mostly re-elected current politburo members, and in some cases eligibility laws, Vietnam remains intent on becoming more of a tech industry player. The nation offers itself as a fine place to conduct high-tech manufacturing and is also keen on developing a skilled workforce to encourage services players. ®