This article is more than 1 year old
Workday bets big on staff coming back to the office by splurging $172.5m on HQ and five more Bay Area buildings
This from the CEO who says 'five days is too much family time'
SaaSy HR and finance software biz Workday is backing its return-to-office plan with a $172.5m property investment on the eastern side of San Francisco Bay - at a time when flexible working seems here to stay.
According to the Mercury News, the application vendor has bought six buildings in Pleasanton, in the East Bay, including its existing HQ complex in an all-cash deal.
Workday's financial performance has held up in the pandemic, or rather it's topline has: the company reported $4.32bn in revenue for the 12 months ended 31 January 2021, up 19 per cent year-on-year. Operating losses halved to $248.6m.
Despite the company doing quite well out of software that can be used from anywhere, CEO Aneel Bhusri has said back to the office is the preferred direction of travel as virus-related lockdowns abate.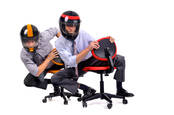 Back to the office with you: 'Perhaps 5 days is too much family time' – Workday CEO
READ MORE
Speaking on a Goldman Sachs call in January, he said he was "a big believer that we're going to be back in the office."
On working remotely, he added: "It is hard to collaborate. It's hard to really have a great culture and an inspired workforce if you're just on Zoom every day. And I think in the early days, people were excited about this remote work, but 10 months into it, most people want to get back into the office."
Bhusri talked of the "mental health" benefits of "family time" and described this as a "silver lining" to lockdowns, but he mused that ""maybe five days is too much family time. One or two days is a good amount.
Now it seems Workday employees will have a great deal more office to go back to. So it's off to their 410,000 square feet for Workday employees, we assume.
Nonetheless, Workday's move is at odds with the prevailing wind among large tech companies.
Fujitsu and Dell have told employees not to expect routinely returning to the office even after the pandemic is over.
Google has said it would allow the most employees to work from home until September 2021, and experiment with a hybrid model that combines office-based and remote working after that.
In a company memo, CEO Sundar Pichai said Google wanted to test its hypothesis that "a flexible work model will lead to greater productivity, collaboration and well-being."
Twitter has also announced a permanent work-from-home policy.
Meanwhile, SaaS behemoth Salesforce, San Francisco's largest employer, has reportedly cancelled the lease on an unbuilt 325,000sqft tower. Its headquarters are already in the city.
Earlier this year, Brent Hyder, Salesforce president and chief people officer, said that "the employee experience is about more than ping-pong tables and snacks" as he announced an end to the assumption that most staff would work from the office, and introduced a flexible working plan.
Still, Workday clearly believes it will get value from its $172.5m office investment. ®